Award-Winning Story of a Pastor's Struggles and Victories Released to DVD by Lukas Media Distribution
Greg Laurie of Harvest Ministries Chronicles His Journey from Abuse to Redemption in Lost Boy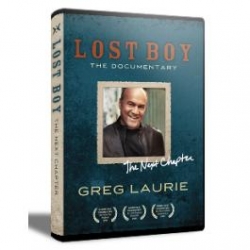 Tulsa, OK, July 12, 2010 --(
PR.com
)-- Pastor Greg Laurie's biographical documentary, Lost Boy, is available on DVD from film distributor Lukas Media, a faith-based distribution company based in Tulsa, OK.
The international release of Lost Boy is strongly supported by Harvest Ministries, Pastor Greg Laurie's international organization. Says Laurie, "Lost Boy offers people a chance to learn about my unusual life story and how God intervened in the life of a mixed-up teenager and brought hope and purpose. I thank God for this additional exposure and, hopefully, further spreading the message of hope that people need to hear so desperately today!"
Lost Boy has experienced award-winning success at festivals around the world, receiving Best Documentary at the 2009 International Christian Film Festival, 2009 Riverside International Film Festival and 2009 International Film Festival South Africa.
Recently, Lost Boy was accepted to the LifeWay-sponsored Gideon Film Festival and screened as the headliner on June 4, 2010 in Ridgecrest, NC. The Director of Harvest Resources, Gary Zelasko, was present for a special Q&A session with audience members. The documentary will also show at the International Christian Film Festival 2010 (UK) on August 4, 2010.
In an official statement, Lukas Media founder Dr. Enis Sakirgil stated, "Greg Laurie influences hundreds of thousands around the world because he has a story to tell. His story is one of pain, redemption and faith, and it is this same story that I am excited to share with many in documentary form."
Lukas Media will release two other DVD's before the end of Summer 2010. Damascus (Agape4Media) is a gripping docudrama about Saul of Tarsus, filmed on location in Syria, which will be released in July 2010. Miracle of the Widow (Broadway Bridge Productions) is a faith-based drama that will be released on August 1, 2010.
About Lukas Media: Lukas Media connects with consumers through its retail website, www.FamilyChristianMovies.com, and distributing family movies and Christian Movies to Christian bookstores, online retailers and church bookstores. The company's distribution arm is burgeoning as Lukas Media has recently acquired four Christian films and one DVD set. Lukas Media's founder, Dr. Enis Sakirgil, M.D., is a doctor and entrepreneur who has established Lukas Media as a distributor specializing in Christian DVD's.
For More Information:
Lost Boy Website: LostBoyTheMovie.com
Lost Boy on Facebook: Facebook.com/LostBoyMovie
Email inquiries at newsletter@FamilyChristianMovies.com
###
Contact
Lukas Media LLC
Jake Olson
1 888 70 MOVIES
www.familychristianmovies.com

Contact