From the Gridiron to Movies – Terrell "T.O." Owens Makes His Acting Debut in "Dysfunctional Friends"
Terrell Owens goes from field to the small screen and now the big screen.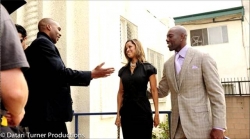 Chicago, IL, July 13, 2010 --(
PR.com
)-- Embarking on his feature film/ acting debut, one of the most controversial and recognized athletes today – Terrell Owens under the tutelage of Producer/Writer – Datari Turner and Award Winning Filmmaker – Corey Grant have started post production on a comedic drama aptly titled "Dysfunctional Friends."
Reminiscent of the classic 80's hit comedy "The Big Chill," Friends is an entertaining yet enlightening comedic drama about a diverse group of dysfunctional friends who are reunited after the death of their larger-than-life friend, Dennis played by actor Keith Robinson (Dreamgirls, Dear John). The once tight-knit group of friends, during college, has grown apart due to time, distance and egos, played by an all star cast, including Terrell Owens (Buffalo Bills, The T.O. Show), Essence Atkins (Dance Flick, Are We There Yet), Wesley Jonathan (Roll Bounce), Tatiana Ali (Fresh Prince of Bel Air), Stacy Dash (Clueless), Regan Gomez (The Cleveland Show, Never Die Alone) Hosea Sanchez (The Game), Persia White (Girlfriends), Jason Weaver (ATL, Drumline) Stacey Kiebler (Dancing with the Stars), Vanessa Simmons (Runs House, Daddy's Little Girls), Meagan Good (Video Girl, Stomp The Yard, Roll Bounce), and many celebrity cameos.
Producer/Writer Datari Turner (The Lisa Raye Show, Video Girl) and Director Corey Grant (Hip Hop Task Force) have combined their talent and expertise to deliver a stunningly vivid, heart-warming and hilarious feature, set against the beautiful Los Angeles landscape. "Dysfunctional Friends" is expected to wrap and premiere in 2011. Vh1 was on set daily to capture footage behind the scenes of the making of Dysfunctional Friends which will air in the upcoming second season of "The T.O. Show", set to comeback the end of July, 2010. For more information on "Dysfunctional Friends" or for interviews please email Shelly McAdoo at shelly@the9smagazine.com.
###
Press Contact:
Shelly McAdoo
The 9s Entertainment, Inc.
708.674.6952
Contact
The 9s Entertainment, Inc.
Shelly McAdoo
708-674-6952
www.the9smag.com

Contact