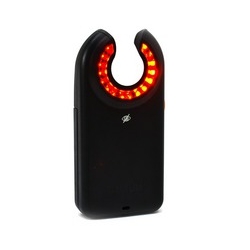 Sugar Land, TX, July 16, 2010 --(
PR.com
)-- Veinlite® by Translite LLC introduces into the market its new Veinlite® EMS tools for vein imaging. The new Veinlite® EMS is an affordable, lightweight, pocket-sized Veinlite® for general vein access, with sixteen LED lights powered by two AA batteries effective for finding veins in adults and children. The new Veinlite® EMS is a simpler version of the successful and clinically proven Veinlite® LED device.
The Veinlite® EMS Tool works well to assist in accessing veins regardless of the lighting conditions or the color of the patient's skin. Its simple operation and easy to follow instructions makes it a breeze even for the technologically challenged. The new Veinlite® EMS is simple, tough and basically risk free to the patient. The LED lights are used to concentrate light on areas of tissue to illuminate the vein. It has an optional snap on light reducing shield when needed as well as an optional pediatric shield. The durable and lightweight light performs effective vein imaging even in near abusive situations. TransLite LLC, the parent company responsible for manufacturing the Veinlite EMS, lists LED life at 100,000 hours. Cleaning is simple by wiping with 70% isopropyl alcohol although it has a disposable cover. A protective nylon case and a lanyard for ease of transport are available as optional items. This new
Veinlite® EMS tool
is affordable and daily costs are usually limited to disposable covers and batteries.
Veinlite® is well known for its vein finder for vein access in children, neonates, emergency medicine, critical care, radiology and oncology. It has been clinically validated to improve venous access in children. For more information about the new Veinlite® EMS tool with vein imaging and other Veinlite® products visit
www.veinlite.com
.
###