P.A.N.D.O.R.A.-Patient Alliance for Neuroendocrineimmune Disorders Organization for Research & Advocacy, Inc Wins a $20K Grant on Chase Community Giving
P.A.N.D.O.R.A., the charity organization behind the NeuroEndocrineImmune (NEI) Center™, a community patient-driven scientific research center, to be located in the state of New Jersey, wins a $20,000.00 Grant from Chase Community Giving as announced on July 13, 2010.

Coral Gables, FL, July 17, 2010 --(
PR.com
)-- P.A.N.D.O.R.A is pleased to announce that it has been officially notified by the sponsors of Chase Community Giving as one of the winners of a $20,000 grant award on their 2010 charity giveaway. P.A.N.D.O.R.A. ranked number 162, on the top 200 charities in the entire country competing for the top 200. At the end of the contest, P.A.N.D.O.R.A. had 1,571 votes.
Stephen Silverman, the President of P.A.N.D.O.R.A. stated: "We are grateful to all who voted for P.A.N.D.O.R.A. Your vote means a lot to me and to my wife, Marly who suffers with Chronic Fatigue Syndrome-ME, and Fibromyalgia. Our family knows first hand the devastating effects of these seriously disabling & debilitating chronic illnesses."
The contest was held on Facebook and its users voted for thousands of charities since the contest started in June 15, 2010. "Being placed on the top 200 small charities by grassroots voting is an overwhelming endorsement of the unique concept which underlies P.A.N.D.O.R.A.'s mission: the umbrella of NeuroEndocrineImmune Disorders (NEIDs), which has a commonality of pathophysiology and symptomology resulting in substandard personal, and family quality of life for individuals afflicted with NEIDs," stated Dr. Kenneth Friedman, Vice-President of P.A.N.D.O.R.A.'s executive board and a member of the executive board of the IACFS-ME Association.
P.A.N.D.O.R.A. is gratified by the support it has received from the Neuroendocrineimmune Community expressed as votes in the 2010 Chase Community Giving Program," added Sandi Lanford, President and Founder of the Lanford Foundation, Lifelyme, Inc.
Marly Silverman, the founder of P.A.N.D.O.R.A. shared that "Although our community is composed mostly of disabled individuals whose illnesses are difficult to diagnose and difficult to treat, and who often feel unfairly disenfranchised from most of American life; these individuals were able to vote in sufficient numbers to place P.A.N.D.O.R.A. in the winning rankings."
The contest application supporting Chase Community Giving engaged 2,619,718 users on Facebook. Veny Musum, the Chairman of the NeuroEndocrineImmune (NEI) Center™ Project and a member of P.A.N.D.O.R.A.'s board stated that "The interaction of our members with our team on Chase Community Giving on Facebook, on Tweeter and on LinkedIn, as well as on Aboutme-cfs.org, created for the first time a viable tangible awareness through social media tools, of the plight of individuals with NEIDs."
"The commonality found on neuroendocrineimmune disorders means that advances made in the understanding or treatment of one of these illnesses will increase our understanding and/or treatment options for the other related illnesses," shared Lesley Fein, MD, a leading respected treating NEIDs physician, and member of the P.A.N.D.O.R.A.'s NEI Center™ Team.
Neuroendocrineimmune Disorders Demographics and Prevalence
It is estimated that there are in the U.S. 20 million individuals suffering from disabling, painful and highly difficult to treat chronic illnesses such as chronic fatigue syndrome, myalgic encephalomyelitis, fibromyalgia, Lyme disease, multiple chemical sensitivity, environmental and Gulf War Illnesses. These illnesses in general affect more women than men. But they also affect children and the elderly. It crosses the barriers of gender, social status and ethnic backgrounds. In the U.S. these chronic illnesses significantly contribute to 75% of all health care costs in the U.S. The CDC has stated that in the case of CFS-ME, the annual economic impact in the U.S. economy amounts to $9 billion dollars (CDC).
P.A.N.D.O.R.A. stands behind its meaningful slogan "One Voice, One Community, One Cause™, expressing the hope of individuals with different illnesses and from different socioeconomic backgrounds. P.A.N.D.O.R.A. is propelled forward by this expression of grassroots support. It will direct the grant winnings to its daily operational expenses as well as towards the establishment of the first ever NeuroEndocrineImmune (NEI) Center (www.neicenter.com) and its comprehensive programs for the complete care of individuals afflicted by Neuroendocrineimmune Disorders.
About P.A.N.D.O.R.A., Inc- Patient Alliance For Neuroendocrineimmune Disorders Organization for Research and Advocacy, Inc.
Based in Coral Gables, Florida, P.A.N.D.O.R.A. was founded on July 1, 2002 by Marly C. Silverman, a Chronic Fatigue Syndrome-ME and Fibromyalgia patient. Its mission is to raise awareness of the plight of persons with chronic fatigue syndrome-myalgic encephalomyelitis, multiple chemical sensitivities, environmental illnesses, and chronic Lyme disease advocating for quality of life issues. P.A.N.D.O.R.A. is Built on Hope – Strong on Advocacy – Finding a Cure through Research. For more information, visit
www.pandoranet.info
- Find us on Facebook at http://www.facebook.com/PANDORAORG - Follow us on Tweeter at http://twitter.com/pandoranet
###
Contact
P.A.N.D.O.R.A.- Patient Alliance for Neuroendocrineimmune Disorders Org. for Research & Advocacy,Inc
Marly Silverman
954-629-0976
www.pandoranet.info

Contact
Multimedia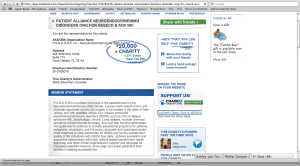 P.A.N.D.O.R.A.'s winner page on Chase Community Giving depicting the $20k Grant Award.