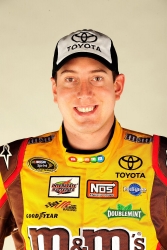 Scranton, PA, July 20, 2010 --(
PR.com
)-- Toyota of Scranton and Kyle Busch Motorsports are teaming up to sponsor Kyle Busch's #18 Toyota of Scranton Tundra in the Camping World Truck Series Pocono Mountains 125 on Saturday July 31, 2010.
The Kyle Busch Motorsport #18 Toyota of Scranton Tundra will be driven by fellow NASCAR superstar Kasey Kahne, who is making a rare appearance driving a Toyota product. The Tundra will be outfitted for race day with the Toyota of Scranton logo on the hood, bed cover, and both rear quarter panels, showcasing the instantly recognizable chrome "S".
Toyota of Scranton would like to invite the North East Pennsylvania community to attend an In-Field Experience taking place from Thursday July 29th, through Saturday July 31. Open to fans of all ages, this massive three-day event will feature a meet and greet with NASCAR superstar Kyle Busch on Thursday July 29th at 6pm, NASCAR race simulators, NASCAR vehicle displays including the #18 Snickers Toyota Camry and the #18 Interstate Toyota Tundra, food, entertainment and more.
The talents of Kyle Busch and Kasey Kahne set the stage for fans of NASCAR and Kyle Busch Motorsports at the NASCAR Camping World Truck Series Pocono Mountains 125. Toyota of Scranton is thrilled to sponsor the #18 Toyota of Scranton Tundra; a model nominated for the North American Truck of the Year award and was Motor Trend magazine's Truck of the Year in 2000 and 2008.
As one of Pennsylvania's largest Toyota dealerships, Toyota of Scranton provides over 100 jobs for the Northeast Pennsylvania community. The 10-acre dedicated Toyota facility was awarded Toyota's highest honor, the 2009 Toyota Presidential Award for exceptional sales and customer satisfaction.
Contact: Shelley Tidmore
Phone: 703/204-9412
###