European Algae Oil Omega-3 Access Increases with Source-Omega's Products and Services
Source-Omega's Pure One™ brand moves towards private label offering and licensing in a growing market with green economic outlook. Estimated at $400M, the total European omega-3 market is now doubling every 10 years.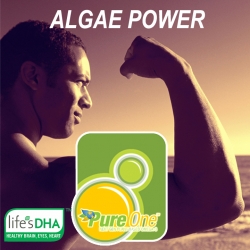 Chapel Hill, NC, July 22, 2010 --(
PR.com
)-- Source-Omega's Pure One™ branded products move towards international private label deals, offering contracts, access and licensing to a growing global omega-3 market with growing global green economic outlooks.
"In Europe there is a strong compliance record for our algae oil source," said Scott Doughman, PhD, President of Source-Omega, LLC maker of the Pure One™ omega-3 algae oil brand.
Evidence-based omega-3 fatty acid benefits from eicosapentaenoic acid/docosahexaenoic acid (EPA/DHA) gives ongoing usage credibility for polyunsaturated fatty acids (PUFAs) as an adjunct to diet for condition specific uses. EPA and DHA are the "good fats" considered almost essential to combat the effects of the modern diet. With 50% global urban populations carrying excess weight plus heightened consumer awareness regarding high dose omega-3 benefits, connections made between 'need' and 'use' is answered, yet the question remains as to what sources and dosing strategies are best for each application.
"With our standardized dosing program, our algae oil is disclosed for use in our patent pending accretion therapy to end omega-3 deficiency in a person in three months, pure and simple," said Doughman, who claims Pure One™ algae oil is balanced to match the body's omega-3 needs.
Consumers hope to find solutions to fish sustainability and seawater pollution issues. Many are putting algae oil omega-3s squarely in the scope of comparison to fish oil. While algae oil dietary supplements makers still seek greater distribution, new analysis from Frost & Sullivan (http://www.food.frost.com), titled Strategic Analysis of the European Marine and Algae Oil Omega-3 Ingredients Market, finds that algae oil is clearly part of the total omega-3 benefits market.
Algae oil made in the U.S. is good on the topics of shelf-placement, regulatory and compliance topics. For more information, for example, GOED and Purdue University in the U.S. established the Omega-3 Learning Consortium for Health and Medicine to provide credible information about omega-3 fatty acids.
With many algae oil omega-3 distribution challenges still to overcome, positive media coverage seems to abound around the benefits for ageing populations facing chronic illness such as diabetes, heart disease and Alzheimer's disease. With the topic of medical food emerging, how to classify omega-3s is not yet understood by doctors or consumers. Consumers are still rapidly trying to learn on their own to differentiate between what they hear and read and what the doctor recommends.
Manufacturers of algae oil supplements recognize the link between consumer awareness and product marketability for branding the active ingredients into functional foods, supplements, and medical foods. The European Parliament has approved nutrition claims for omega-3s to apparently encourage greater daily doses and omega-3 usage across Europe.
About Source-Omega, LLC, Chapel Hill North Carolina, USA: Source-Omega is located near the Research Triangle Park and was founded in 2007 for specializing in the manufacturing, branding, and globalization of algae oil nutritional products as an exclusive distributor of the brand name Pure One™, Next Generation Plant Based Omega-3™ for their Omega-3 DHA Therapy™, for clinics offering triglyceride lowering plasma lipids management programs and for pregnancy, nursing and family care. Dr. Scott Doughman, Ph.D. Phone: +19193605275, Web:
www.pure-one.eu
; www.source-omega.com; www.pureone-DHA.com.
###
Contact
Source-Omega, LLC
Gene Wolf
919-360-5275
www.source-omega.com
52 Norwood Rd
Chapel Hill, NC 27516
USA

Contact