International Pop Singer, Jose Hendrix Creates World Pop CD Collaborating Virtually Across Two Continents
African artist Jose Hendrix and American songwriting team Mye-Isle Productions launch virtual recording partnership that combines cultures, languages and musical styles using the Internet.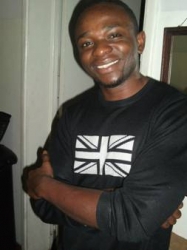 Kansas City, MO, July 30, 2010 --(
PR.com
)-- In DRC Congo, Africa, International pop singer Jose Hendrix has just released his first single from his debut CD Jose Hendrix - Embrace The Earth. The Embrace The Earth CD is a culmination of creative musical interests from a unique across-the-world collaboration with American songwriting team Mye-Isle Productions (Kelly Myers and Don Belisle), who have put their confidence exclusively in Jose Hendrix to record and perform their songs for a worldwide stage. Jose lives in Kinshasa, the Democratic Republic of Congo where even an Internet connection can be a challenge.
The first CD single launched from a unique virtual collaboration working across two continents called "When It Feels" is now available on Jose's Web site: www.Josehendrix.webs.com or www.myspace.com/josehendrix. Having played Live Aid London in 2008, Jose has had the opportunity to be front man for Latin-African fusion bands like Grupo Lokito performing across Europe and Africa.
The music is a blend of African roots mixed with French/English lyrics that lay over a bed of American pop. The songs are a mix of multiple cultures and languages, which is what Mye-Isle Productions had hoped for when they entered into a recording agreement with Jose. "Our goal is to fuse together different musical cultures for a truly international pop CD," Kelly Myers said. "Working with Jose remotely has been an incredible experience. His work ethic and unquestionable talent have made him a perfect match for our virtual collaboration. We feel lucky that Jose chose our portfolio of songs to record as part of his North American launch."
The final CD will be completed by early fall followed by a US tour. Watch for more songs and the final CD to be posted on www.josehendrix.webs.com
Media Contact:
For more info contact Myeisleproductions@yahoo.com or call 816-799-6117.
###
Contact
Mye-Isle Productions
Kelly Myers
816-309-4249
www.josehendrix.webs.com
kelly.g.myers@sprint.com

Contact
Multimedia
World pop singer Jose Hendrix, and Mye-Isle Productions (Kelly Myers and Don Belisle) Create First Virtual Single Recording From American Debut CD