Ted L. Nancy Illustrator to Illustrate Children's Books
Alan Marder, the illustrator of the Ted L. Nancy series of books, has signed on to illustrate a series of children's books by W. J. Brutocao.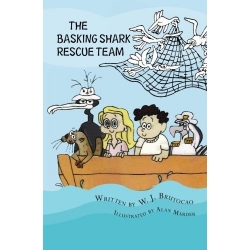 Pasadena, CA, August 01, 2010 --(
PR.com
)-- Alan Marder, illustrator of the best-selling Ted L. Nancy "Letters From a Nut" books, has signed on to illustrate a series of children's books authored by W.J. Brutocao.
The first book, "The Basking Shark Rescue Team," came out in April 2010. The second book, "Rocky and the Great Bird Race," is scheduled for later this year.
Brutocao's whimsical world includes Rocky the Otter, a mischievous river otter who does not always listen to his mother, Corky the Cormorant, a quirky character with good intentions, with the odd habit of repeating everything he says, Beulah the Basking Shark, Sam the Seagull, Eileen the Egret, and The Great Blue Heron, a wise old fatherly type.
The stories are set in the fictional towns of Mendo and Morro, California, beautiful seascape villages.
Complementing the writing are Alan Marder's delightfully drawn animal characters.
Alan Marder is a sought-after cartoonist whose other works include Ted L. Nancy's "Hello Junk Mail," and "Stories From a Moron" by Ed Broth. He also illustrated Ted L. Nancy's "All New Letters From a Nut" due in stores in September from Random House.
The "Letters From a Nut" books are enjoyed by adults and children alike. A version has been published by Scholastic and they are used as teaching tools in classrooms. Mr. Nancy receives quite a bit of mail from both students and teachers.
Brutocao's books are also destined for classroom use, having been embraced by the Mendocino second and third grade teachers and students.
Here is what some readers have said about "The Basking Shark Rescue Team":
-- Mr. Brutocao's fresh and unique writing style kept me interested from beginning to end.
-- We're the second grade class at the Mendocino K-8 School in Mendocino, California and we recommend The Basking Shark Rescue Team.
-- A sweet, funny story starring a brave otter, a basking shark in a jam, birds of all types and a pair of human cousins.
-- This is a great children's book, full of exceptionally descriptive scenes of wildlife.
-- My daughter has to read every night. There are some books she puts down after her time limit and there are some she will read until I come in and tell her to go to sleep. This was one of them. She said that she liked the characters enough to want to be in the book with them.
The books are available on amazon. com
###
Contact
W. J. Brutocao
Bill Brutocao
818-790-8798

Contact