Nikki News States That Cabarete is Now on the Jet Set Map with the Opening of Nikki Beach
Cabarete Dominican Republic is now officially a Jet Set location with the installment of Nikki Beach with dinner guests Sir Richard Branson and his family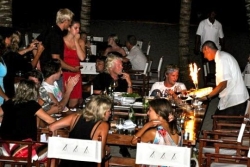 Cabarete, Dominican Republic, August 02, 2010 --(
PR.com
)-- Nikki News announces that Nikki Beach opened its doors in Cabarete Dominican Republic this past Friday with a soft opening night and from just word of mouth over 400 people visited the new location. Among the first nights guests were
Sir. Richard Branson's
family and friends celebrating
his son Sam Branson's 25th birthday, Nikki Beach owners Mike Penrod with his wife Jeniya Penrod, some of the best kite surfers in the world and local residents.
Guests enjoyed the Nikki Beach lifestyle brand of entertainment with resident DJ Ro-Z who just arrived from Koh Samui Thailand after her one-year residency at Nikki Beach Bungalow Resort and local saxophone artist Carlos Estrada.M. Guests also were delighted to receive such an upscale service style headed up by Opening General Manage Bruce F. Hanrahan who has been with the Nikki Beach for over 13 years and serving international menu items created from executive Chef Gerry Gasani.
"What an amazing first night for what we call in this business a soft opening and used to slowly open as we work out the service and training usually on few guests. But, tonight we had about 400 some guest come from an overwhelming word of mouth from our local friends. So, I guess this is an amazing sign for Nikki Beach and our new home here in Cabarete Dominican Republic," said owner Mike Penrod.
Nikki Beach in Cabarete is centrally located in the center of the strip of restaurants with seating on the beach under the palm trees open for lunch, dinner and late night seven days a week.
About Nikki beach
Founded on Miami's South Beach in 1996 by Jack Penrod, Nikki Beach has established a lifestyle brand that combines art, music, fashion and film. Over the past decade, the
Nikki Beach
brand has expanded its flagship Café Nikki on South Beach to jet-set destinations such as St. Tropez, St. Barth, Marbella, Marrakech, New York City, Cabo San Lucas, Puerto Vallarta, Koh Samui Thailand, Cabarete Dominican Republic, and Sardinia.
###
Contact
Nikk News
Mike Thomas
1-305-767-1472
http://www.Nikkinews.com

Contact