Book.Defy Announces New Streamlined Site to Better Serve the Textbook Needs of College Students
Buying textbooks for college students is a pain. It costs a lot of time, energy and money, and the worst part, when buying textbooks from the campus store, the costs are exorbitantly high. The average student can save by buying books from the non-campus bookstores, but can realize larger savings buying online. Online searches are difficult and time consuming, however a new website, Book.Defy, a free service, simplifies this by showing visitors where to find the best textbook deals.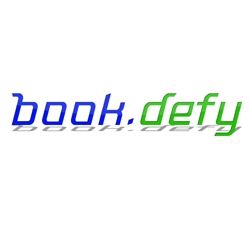 Akron, OH, August 25, 2010 --(
PR.com
)--
www.BookDefy.com
announced the re-design of their site, and the company now makes it easier for college students – or anyone for that matter to find the best pricing on textbooks – or any books for that matter.
Buying textbooks is a pain, and unfortunately costs a small fortune for the average student. Buying from the bookstore disadvantages students in several ways. First, the campus bookstores usually sell textbooks at the price the publishers suggest, meaning, most students overpay by a lot for new textbooks. Second, these stores buy back books from students at a fraction of the purchase price, and then they resell them at rates much higher to another student. Finally, publishers frequently change editions, thereby forcing students to purchase brand new editions. For many students, these are non-issues, because they simply use a parent's credit card and are on their merry way. However, for the financially motivated student, or the fiscally conscious parent, there are ways to save. The first is to buy books at the local, non-campus, bookstore, where the student or parent will get slightly better pricing on new and used textbooks. The second is to buy textbooks online.
Buying textbooks online is difficult - how is a student to know for sure they are getting a good deal on a used textbook? The re-design of the Book.Defy website now allows students the ability search many online websites and to quickly find the best textbook prices. Students looking to comparison shop need only enter in one piece of information, the ISBN number of a textbook, or they can search for the ISBN by searching the author, title and other information to get this. Book.Defy is a website dedicated to simplicity. The site does not offer any puff, pizzazz or other extraneous information. The website does not sell books, or buy textbooks, it just shows visitors a list of the best pricing available on the Internet for used books.
Most people know that buying books online is cheaper, but there is a stigma, and other general fears associated with buying online in general. This stigma attaches in the form of fraudulent transactions, paying "hidden" shipping and handling charges and waiting days, weeks or longer for the online textbook.
These former (and sometimes realistic fears) are no longer true. Buying online is very secure, and in reality, a person is more likely to encounter a form of fraud from someone stealing his credit card information from his trash, or from someone hacking his bank's database, than to have his information intercepted online. Furthermore, most online vendors now offer immediate shipping, usually within a week, and sometimes less, even just a day or two. Most online book vendors offer free shipping, or at least include it in the price. This means that a student can order textbooks from the comfort of their home and can actually receive them in the mail in almost the same time, while saving money, than they could buying them from the bookstore. For students that have already bought textbooks, remember, you can always return them. Take the ISBN of the book you already bought from the bookstore, compare it, order it online, read the first few chapters and return the bookstore's overpriced monstrosity back to the campus bookstore.
###
Contact
BookDefy
Derek Haake
(979) 492-6908
www.bookdefy.com

Contact