Foreclosure Gets New Life as Eco-Friendly Wellness Center
Apex Wellness Center announces the complete transformation of a foreclosed property to a new wellness center facility in the Lents urban renewal area of Southeast Portland using loans and grants from the PDC. Key sustainability features were used in the remodel. Future plans include using a Green Features Grant to construct a rain garden. The center houses a family medicine practitioner, a chiropractor, an acupuncturist and several massage therapists to help revitalize the neighborhood.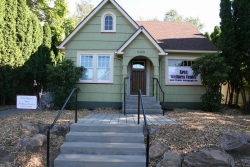 Portland, OR, September 15, 2010 --(
PR.com
)-- The Apex Wellness Center is pleased to announce the complete transformation of the foreclosed property at 5308 SE Rhone St., Portland, OR into its new wellness center facility. Rebecca Schacker, a chiropractor, spotted the house on Mother's Day 2009. She and her husband Geoff Greene purchased it at auction at the end of June and took possession of it in July. With the help of the Portland Development Commission (PDC) loans & grants for the Lents urban renewal area, construction began in January. It required a down to the studs remodel. The finished product includes five treatment rooms, an ADA accessible bathroom and entryway, shared office space and laundry room, off street bike parking, and shower facilities important for practitioners who bike commute or want some lunch time exercise.
Key sustainability features in the remodel included using Metro recycled paint, recycled building materials, disconnecting the downspouts off the sewer lines, and putting an oil tank out of commission. Future plans include utilizing a Green Features Grant from the PDC to construct a rain garden featuring native plants, installing a solar energy system, and providing a discount on out of pocket services to those using mass transit or human-powered means to access the Center. Also, Apex is participating in the Bike Commute Challenge.
At the open house on Saturday, September 18th from 2-6pm, you can see the newly remodeled wellness center whose mission is to provide comprehensive and integrated healthcare to our community. The current practitioners include:
*chiropractor Rebecca Schacker (DC)
*family physician Michael Chen (MD)
*acupuncturist Tim Eng (LAc)
*massage therapists Elisabeth Schock, Heather Eggen, and Emily Krug (LMTs).
For additional information please visit http://www.apexpdx.com/.
###
Contact
Apex Wellness Center, LLC
Tim Eng
503.775.6885
www.apexpdx.com

Contact