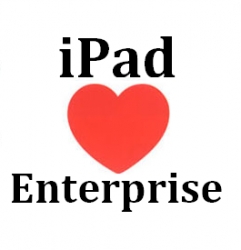 Cupertino, CA, September 15, 2010 --(
PR.com
)-- Research shows that iPads and other next-generation tablets could help IT managers add more value to their legacy investments in the 61 billion dollar per year ERP software market. First priority is to empower those highly influential users – executives, managers, engineers, and scientists – who need mobile tablets in their daily work. But IT departments need easier tools to prototype, build, and deploy applications.
To help this need, iOptimal today announced iPad Enterprise Toolkit, a system that makes it quick to convert ERP and corporate enterprise screens onto the iPad/iPhone Platform…and add powerful mobile functionality on top.
Whether it's doctors entering patient data, executives approving purchase orders, factory managers planning supply chains, or retail managers running their floor operations, there are a lot of people who need to work with corporate data but whose jobs are too fast-moving to use a laptop. In many cases ERP systems are used by less than half of potential users. The iPad and other tablets are perfect to solve this problem.
And this can translate into major savings and competitive strength: a recent study by the University of Texas and the Indian School of Business concluded that "A 10 percent Increase in usability of enterprise data can translate to $2 billion in additional revenue every year" for Fortune-1000 companies. With the fast pace of competition in the world economy, mobile tools are more important than ever to become more agile and more competitive.
The iPad Enterprise Toolkit is available as a beta test with iOptimal professional services.
###