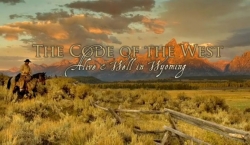 Clark, WY, September 24, 2010 --(
PR.com
)-- "There was a time when cattle roamed the open range, a handshake sealed a deal, and people lived by a sense of right and wrong carried in the heart - the unwritten rules of the cowboy." Produced by Jim Owen, author of Cowboy Ethics: What Wall Street Can Learn From the Code of the West, and shot against the backdrop of Wyoming's breathtaking landscapes and vibrant communities, this film presents an inspiring portrait of what it really means to live with honor, heart, and purpose.
"The Code of the West –Alive and Well in Wyoming," is a 30-minute movie that portrays what makes Wyoming such a special place with its people who are rugged individualists with high moral standards. The film has been recognized with a Telly Award. The individuals highlighted in the movie include politicians, business leaders, ranchers, rodeo cowboys, students, and a rodeo queen, just to name a few. Names range from celebrities such as former U.S. Senator Al Simpson and Wyoming's number one philanthropist Mick McMurry, to representatives of business and ranching communities such as Jerry Schnieder founder of
Mount Carmel Youth Ranch
a ranch dedicated to helping at risk youth.
The movie is as touching and emotional as it is motivating. On one hand it is disconcerting that the values detailed in Mr. Owens' books are increasingly absent in our society, yet on the other hand there is a great sense of comfort to recognize that our own community and places like Mount Carmel Youth Ranch teach and practice these values. The Q&A period after the premiere revealed to the audience that the motivation behind the release was not for commercial gain, but rather for passing on the message. Incidentally, it is probably not a coincidence that the Anschutz family of Denver, CO contributed to this movie. One of their philanthropic endeavors is the "Foundation for a Better Life" whose primary mission is to spread healthy values through billboards and TV campaigns with their famous "pass it on" taglines. "Code of the West –Alive and Well in Wyoming" seems like an excellent vehicle for passing on the message of the Code of the West to many people. When asked how Mount Carmel Youth Ranch felt about their role in this film Tom George, the Director shared: "We at Mount Carmel Youth Ranch are motivated to help pass on this timeless message and will continue to pass on these values to many future generations. In these difficult times we think that a lot of people may find comfort and a new sense of hope through this great film about the importance of having a moral code of ethics in all that we do."
Mount Carmel Youth Ranch has shared this time honored "Code of The West" with all of the young men who have had the privilege of attending this unique values based youth ranch program.
To Purchase this Film Visit and to watch the trailer go to
www.haveypro.com/codeofthewest.html
###