New Book Encourages Young Travelers to Plan Their Disney Vacation
"Kid Tips for Walt Disney World" is interactive from beginning to end. It includes tips from kids that will help you plan your vacation, as well as removable components to employ on the trip. This is truly a learning and sharing opportunity that only a teacher-author could arrange. Young travelers between the ages of 7 and 15 years of age wrote and shared their experiences with the author.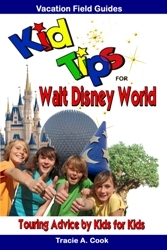 Pleasant Lake, MI, October 01, 2010 --(
PR.com
)-- Now your kids can help plan your family's Walt Disney World vacation. "Kid Tips for Walt Disney World: Touring Advice by Kids for Kids" is designed to encourage kids to truly experience the best of the Walt Disney World Resort (ISBN: 978-0-615-35656-3,130 pages, $10.95).
Written by Tracie A. Cook, a high school teacher and life-long Disney fan, "Kid Tips for Walt Disney World" is a compilation of actual tips written by children between the ages of 7 and 15 years of age. Young travelers responded to questions about what they liked best about Walt Disney World. The book is broken up into sections including the four theme parks, resorts, water parks, and Downtown Disney.
Mike Scopa, senior feature writer and blogger for AllEars.net and one of the hosts of WDW Today Podcast, notes how beneficial it is to have kids talk to other kids about Walt Disney World. "It's difficult as an adult to explain to a child what they are going to experience at Walt Disney World. A child speaking to another child goes much further. 'Kid Tips for Walt Disney World' prepares kids for their Walt Disney World vacation, and lets them know what to expect in a child-friendly language."
The pleasantly clear-minded thinking utilized by the kid-tipsters is apparent, as is the wide range of experiences that they reportedly enjoyed. Some experiences that are available at the Walt Disney World Resort are often overlooked, while in this case they were highly rated. This information will certainly impact vacation planning when parents understand why kids really like some of the lesser-known attractions.
Kim LaPaglia, travel agent and WDW Moms Panel alum, was pleasantly surprised by the book. "Tracie Cook offers a book for children with vacation tips that are equally helpful for the adults in the family. Even though I consider myself a seasoned Walt Disney World visitor, it is very eye-opening to read which restaurants kids find the most memorable. I was especially surprised to find out that one of their favorite choices was the Biergarten in Germany."
Assembled in a very logical, usable format, "Kid Tips for Walt Disney World: Touring Advice by Kids for Kids" is not only richly informational, but also genuinely entertaining. Readers will enjoy a kid's-eye view on everything that the Walt Disney World Resort has to offer. The kid tip suggestions are sure to make any trip to Walt Disney World more fun, comfortable, and enjoyable for the whole family.
About the Author
Tracie A. Cook has been visiting Walt Disney World since her childhood. She holds a master's degree in education and curriculum development and has extensive experience with individualized instruction. With over twelve years of experience as a teacher and countless family trips to Walt Disney World, she recognizes that many valuable learning opportunities happen outside the classroom. Cook lives in Michigan with her family. For more information, visit Cook's website Vacation Field Guides.
###
Contact
Vacation Field Guides
Tracie Cook
517-262-7008
vacationfieldguides.com

Contact