Epic Journey Began Fifteen Years Ago by Author Robert Stanek is Coming Closer to a Close with the Publication of His 19th Bugville Critters Picture Book for Children
Robert Stanek quietly developed the magical world of Bugville for 15 years, inspired by the gleeful cheers, laughs and giggles of his children who delighted to hear his animated tales of a little bug called Buster. As his children got older, they urged him to get the books published so other children could enjoy them as much as they had, and that's exactly what Robert Stanek set out to do in 2004. Now his 19th Bugville tale is coming to print for the first time.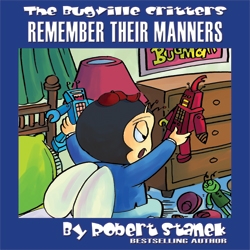 Seattle, WA, October 28, 2010 --(
PR.com
)-- Fifteen years ago Robert Stanek started work on a children's picture book series called Bugville Critters. His children delighted in the stories for many years and urged him to get the books published. When the first book, Visit Dad and Mom at Work, was published in 2007, he had already completed 28 Bugville Critters books. Now for the first time, all the original Bugville Critters books are (or will be soon available) in both print and audio.
In "Remember Their Manners," published by Reagent Press, the Bugville critters become lazy and it seems everyone is behaving badly. It is up to Mom Bee to come up with a plan to correct this poor behavior. The wonderfully-crafted story is paired with energetic illustrations and playful examples that help children discover the world around them and the joy of reading.
Robert Stanek's children are the ones who urged him to get the Bugville Critters books published and that is what he set out to do in 2004. To bring the books to audio, he began working with voice artists in 2005 and it took four years of work with multiple voice artists to get to the release of all 28 Bugville Critters audio books. Meanwhile he worked on getting the original books to print, continued writing new stories, and now "Remember Their Manners" is the nineteenth to be published.
The Bugville Critters stories address real issues and challenges all children face as they start school, make friends, and learn about the world around them. The stories provide lessons about life, friendship, family, our world, the natural world of which we are all a part, and our environment.
Robert Stanek is the author of over 100 books. His epic series Ruin Mist Chronicles includes Keeper Martin's Tale, Kingdom Alliance, Fields of Honor, and Mark of the Dragon and was also released for young adults as The Kingdoms and the Elves of the Reaches #1 - #4 and In the Service of Dragons #1 - #4. He is also well-known for his Bugville Critters children's picture book series. His books have been bestsellers on Amazon.com, Barnesandnoble.com, Audible.com, and Apple iTunes.
For more information, visit www.bugvillecritters.com and www.reagentpress.com.
Remember Their Manners (Bugville Critters #19)
Robert Stanek
RP Books & Audio - Reagent Press
ISBN: 9781575451770 $11.99 46pp
Available at Ingram, Amazon.com, Barnes & Noble and elsewhere.
RP Books & Audio was founded in 1994 as Virtual Press. Our products fall into four major categories: children's fiction, teen fiction, adult fiction and nonfiction. Our imprints include Reagent Press, Reagent Press Books for Young Readers, RP Audio, RP Audio Kids, and Classroom-To-Go. www.reagentpress.com
###
Contact
RP Books & Audio - Reagent Press
Jeannie Kim
360-791-0705
www.reagentpress.com
dragons.reagentpress.com
www.bugvillecritters.com

Contact