"Steadfast Christian" by Patrick Dillon Has Won First Place by Category in the "Best Books 2010" Awards
The award winning Book, Steadfast Christian - A Higher Call To Faith, Family, And Hope, by Patrick Dillon, has won first place honors for the category Religion: Christian Inspirational. Check it out at www.steadfastchristian.com.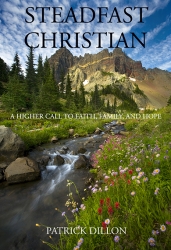 Los Angeles, CA, October 28, 2010 --(
PR.com
)-- Mainstream & Independent Titles Score Top Honors in the 7th Annual "BestBooks" Awards
USABookNews.com, the premiere online magazine and review website for mainstream and independent publishing houses, announced the winners and finalists of The "Best Books 2010" Awards (BBA) on October 26, 2010. Over 500 winners and finalists were announced in over 140 categories covering print and audio books. Awards were presented for titles published in 2010 and late 2009.
Jeffrey Keen, President and CEO of USABookNews.com, said this year's contest yielded an unprecedented number of entries, which were then narrowed down to over 500 winners and finalists.
Steadfast Christian – A Higher Call To Faith, Family, And Hope by Patrick Dillon (Outskirts Press) was honored by finishing first place in the category, Religion: Christian Inspirational.
To purchase and/or receive more information about this award winning book and to view accompanying videos via YouTube, go to
http://www.steadfastchristian.com
.
You can also purchase this book from Amazon, Barnes & Noble, and other fine retailers.
"Create in me a pure heart, O God, and renew a steadfast spirit within me." (Psalm 51:10)
These beautifully simplistic, yet profound words of repentance from King David are the inspiration from which this book was written. The author, Patrick Dillon, feels this heartfelt cry is urgently needed in today's society,
"Serious events are taking place in the world and in our own personal lives
– it's time to renew our faith and become steadfast in our convictions."
This is a mixture of Holy Scripture, personal perspective, and family stories dating back four generations from the tail end of the Gold Rush, the Great Depression, up to current events. Topics such as Evolution, abortion, voting, peer pressure, baseball, Israel, and the present "great recession" are passionately discussed.
The author's friendly candid style evokes an array of emotions. He challenges himself and his readers to truly commit to God, a God who deeply loves us and desires our very best. It is Patrick's sincere aspiration that those who read this will have a renewed sense of true hope that only God can give.
Winners and finalists traversed the publishing landscape: Simon & Schuster, Penguin/Putnum, Rodale, McGraw-Hill, John Wiley & Sons, Moody Publishers, American Cancer Society, Sourcebooks & hundreds of independent houses contributed to this year's outstanding BBA competition. Keen adds, "BBA's success begins with the enthusiastic participation of authors and publishers and continues with our distinguished panel of industry judges who bring to the table their extensive editorial, PR, marketing, and design expertise."
A complete list of the winners and finalists of the USABookNews.com National "Best Books 2010" Awards are available online at http://www.USABookNews.com.
###
Contact
Steadfast Christian, LLC
Patrick Dillon
1-970-247-4442
http://www.steadfastchristian.com

Contact