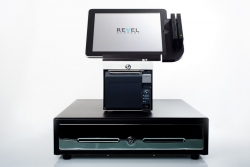 San Fransisco, CA, October 29, 2010 --(
PR.com
)-- Revel Systems, a next-generation mobile iPad Point of Sale provider, has joined forces with Network Intercept to create a new, leading-edge
iPad POS
system. Working in partnership, the two have created a revolutionary iPad POS system that uses Network Intercept's Secure-Me solution to secure restaurant POS payments and provides the consumer with identity theft protection. Revel Systems' decision to partner with Network Intercept will make them one of the most secure restaurant POS providers.
"Identity theft protection is currently a weak link in restaurant POS systems," notes Lisa Falzone, President of Revel Systems. "As many as one out of four individuals is a victim of identity theft. Through integrating Network Intercept's Secure-Me technology, we have created a secure POS system that protects the customer's information through all steps in the transaction process. Keeping our customers' credit card information safe is our top priority."
Unlike the standard security systems on POS systems, the Secure-Me solution uses verification and encrypts all data and payment information from end to end. This gives the customer the highest level of protection against all known forms of identity theft attacks. With Revel Systems' new, secure POS system, customers can once again pay with a credit card without increasing their susceptibility to identity theft.
About Revel Systems:
Revel Systems develops and customizes secure, restaurant POS systems. By integrating Network Intercept's Secure-Me technology, their systems protect customer's payment information against identity theft and all the major hacking attacks. For more information, visit us at http://revelsystems.com
About Network Intercept
Network Intercept is an Internet Security company that has created a series of products to protect businesses as well as individual home users from the known and unknown threats on the Internet. Founded in 2008, Network Intercept is a privately held company with offices in NY, San Francisco, and Bangladesh and headquarters in Los Angeles. Their suite of products provide encrypted and accelerated web browsing, network productivity protection, as well as secure data access to business-critical content and personal information. Network Intercept is dedicated to shielding individuals and businesses from malicious intent on the Internet. http://www.networkintercept.com
###