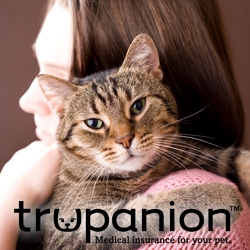 Seattle, WA, November 01, 2010 --(
PR.com
)-- Trupanion, North America's fastest growing
pet insurance
company, today released a list of the top dangers pets face during the Thanksgiving holiday.
With the tricks and treats of Halloween behind us, pet owners may think the biggest
pet health
threats are over. But unfortunately, Thanksgiving also brings some dangers of which pet owners should be aware.
Bones – Bones from turkeys, geese, game hens and other traditional main courses of Thanksgiving dinner have dangerous effects when in the mouths of dogs and cats. Cooked bones especially can splinter and break, causing serious internal injury. Never intentionally give bones to dogs and cats, and while feasts are laid out on counters and tables, make sure there is no easy access to those surfaces.
Table Scraps – However tempting it is to share our Thanksgiving feast with our pets, it's not a good idea to do so. Fatty table scraps are not only unhealthy for your pet, they can lead to bloat, a life-threatening condition in which the stomach twists over itself, blocking gastric passageways.
Garbage Cans – Once the feast is over, table scraps, foil, and other waste that can be dangerous for pets goes into the trash. Crafty dogs and cats may be able to sneak in cupboards or open doors when owners are distracted, so make sure garbage cans are well-secured.
Candles – Candles bring an intimate and elegant element to holiday decorating, but make sure they are not in reach of your dogs and cats. Flames can easily find wagging tails and curious noses.
Holiday Visitors – One of the best things about the holidays is a house full of loved ones, but all the added noise and energy can be stressful to family pets. Make sure to monitor your pet to see how he is reacting to all the commotion and take appropriate measures to keep him calm and safe. For example, if your dog seems nervous, make him a safe room with a cozy bed to escape to when needed.
Holidays are most enjoyable when all members of the family – furry included – are happy and healthy. Being observant and taking a few added precautions will ensure a fun holiday for all.
About Trupanion™
Trupanion™ pet insurance offers cat insurance and dog insurance in the United States and Canada. Trupanion™ is self-underwritten by the American Pet Insurance Company, allowing Trupanion™ to offer a simple, customizable pet insurance policy with no payout limits and 90% coverage of veterinary bills. Enrolled pets receive lifetime coverage for diagnostic tests, surgeries, and medications if they get sick or are injured, with no incident, annual or lifetime limit. Trupanion's mission is to deliver fast, simple and user-friendly financial support to pet owners. For more information about Trupanion™, call 800-569-7913 or visit
http://www.TrupanionPetInsurance.com
.
About the North American Pet Health Insurance Association
Trupanion™ is a founding member of the North American Pet Health Insurance Association (NAPHIA). Founded in 2007, the North American Pet Health Insurance Association is committed to educating and promoting the values and benefits of quality pet health insurance to North American pet owners, the general public, and the veterinary community. As an association, we are committed to high standards and transparency in all of our actions and products. To learn more, visit the North American Pet Health Insurance Association website at
http://www.naphia.org
.
###