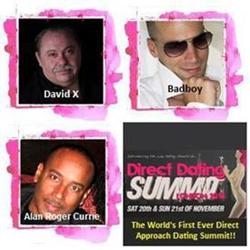 London, United Kingdom, November 01, 2010 --(
PR.com
)-- If you are a single, heterosexual man living in London, UK, and you have been hampered by a fear of approaching women and/or a fear of initiating a conversation with single women, then there is an event coming up that is tailor-made for men like you.
The Direct Approach Dating Summit will take place on Saturday, November 20, 2010 and Sunday, November 21, 2010 at the Cavendish Conference Centre in Central London. The event will start at 10:00 AM both days.
Featured speakers will be "David X," an internationally well-known attraction and seduction expert from Canada; "Badboy," also an internationally well-known seduction guru from Croatia; and Alan Roger Currie, a very popular Book Author and Interpersonal Communications Expert from the United States.
Currie is the author of the internationally best-selling paperback, "Mode One: Let the Women Know What You're REALLY Thinking," which is a book designed to help single men conquer their fear of rejection and subjective criticisms from women. Currie coaches men how to express their romantic and/or sexual desires, interests and intentions to women in a manner that is more highly self-assured, upfront and straightforwardly honest.
Currie, who grew up in Gary, Indiana near Chicago and graduated from Indiana University in Bloomington, Indiana, is also the host of a talk radio show entitled, "Upfront & Straightforward with Alan Roger Currie." Currie's talk radio show centers on issues and topics relevant to dating singles, and Currie frequently interviews Dating and Relationships Book Authors and experts from all over the world.
Currie has been interviewed himself a number of times on various radio programs, television talk shows and in many newspapers and magazines in the United States and internationally.
David X will be the featured speaker on Saturday, November 20th and Badboy and Currie will be the featured speakers on Sunday, November 21st. For more details, visit http://www.DirectDatingSummit.com or http://www.modeone.net.
###