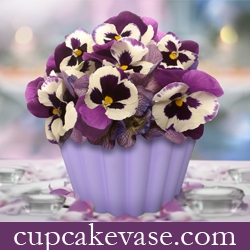 Seattle, WA, November 04, 2010 --(
PR.com
)-- Making floral foam obsolete, Fleur Daily™ cupcake styled vases change how florist and home gardeners create their works of art. Designed with placement holes these colorful
cupcake vases
are quick and easy to decorate every time making them ideal no mess centerpieces and posies. Cute, fun, squeezable and spill resistant they are changing the face of Cupcake themed gifts and parties.
This new and unique flower vase concept has been developed with gift giving firmly in mind. "I grew up in New Zealand, where sand saucer flower posies are a childhood tradition; these happy memories led to the creation of the Fleur DailyTM concept. Everyone should be able to easily enjoy flowers everyday," says Rose, the designer at accessory design house Joster International.
Made from durable EVA they are non-breakable, portable and recyclable. The latex free material is ideal for hospitals and rest homes. They can be carried or displayed hanging using a matching ribbon. Their low stable profile enables indoor - outdoor use without toppling in breezy conditions, or taking up too much table space. Simply squeeze the cupcake to open, fill and clean.
The vases come in a range of 'flavor' inspired colors, including; chocolate, raspberry, lemon, lavender, vanilla and bubblegum. As table centerpieces they compliment any celebration or table décor for cupcake parties, Weddings, Christmas, or Valentine's Day.
These unique and original gift ideas are new to the USA gift and homeware market, they will be presented at:
· California Gift Show - Los Angeles, January 21st to 24th, 2011.
· New York Gift Show – New York, January 29th to February 3rd, 2011.
· Seattle Gift Show – Seattle, February 5th to 8th, 2011.
Joster International is a Seattle based giftware design company founded in 2007. The husband and wife team of USA born J, and Rose from New Zealand, have combined their design and business skills to develop and release Fleur Daily™ Floral inspired gift products. Joster International Inc, creates unique products that are beautiful, fun and functional. They add a special touch to events, occasions and the daily routines of life.
If you would like further information, images or to schedule an interview please contact 'J' Norness or visit
www.josterinternational.com
Contact:
'J' Norness
Joster International Inc
info@josterinternational.com
www.josterinternational.com
USA: Phone: +1-206-501-4560
###