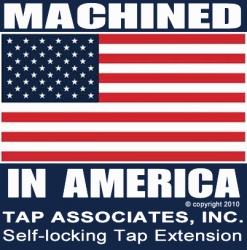 Mariposa, CA, November 04, 2010 --(
PR.com
)-- "The Machined in America" campaign announcement leads off as the first of several "MARCOM" events planned for the Company's anniversary month of November. "The campaign was created to insert vigor and definition into the 'made in America' branding," noted Pamela Gurr - Business Development and Co-Owner.
"We've had a huge response to the "Machined in America©" image and will provide our distributors and Reps with an assortment of giveaways for their customers," said Pamela Gurr. The company plans to announce details for the distribution of shop aprons, t-shirts and caps with the "Machined in America" image on their Web site. Ordering will be made available to the general public, also through their Web site, as demand increases.
"This campaign personifies our commitment at Tap Associates, Inc., in that, we are eager – we are charged, and we are proud to stand shoulder to shoulder with our fellow machinist that make America's products second to none," noted GE (Ed) Gurr, Principle Owner.
Tap Associates, Inc. is a USA OEM manufacturer well known for their "Jüngere" self-locking Tap Extension no set screws or collets needed. The company has provided machine shops worldwide with the perfect solution for close quarter and long tapping problems for over ten years. Available and stock lengths of 2, 4, 6 and 8 inches for standard machine and pipe (npt) tap sizes offering all the benefits of a long tap, yet at the cost associated with a standard tap. Custom services also available.
###