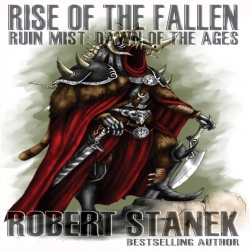 Seattle, WA, November 18, 2010 --(
PR.com
)-- Rise of the Fallen (Ruin Mist: Dawn of the Ages), published by Reagent Press, is the first of four books that tell the never before told story of the origins of the peoples of Ruin Mist. First released in hardcover in May 2010, paperback in June 2010, a library edition in August 2010, Rise of the Fallen is now available in a special edition just in time for the holidays.
In 256 pages, Robert Stanek tells the story of the Hundred Worlds and its peoples through the eyes of the enslaved and the enslavers, weaving a tale that's likely to be unlike any you've read recently. A millennia before the events of the bestselling author Robert Stanek's epic Ruin Mist, Kingdoms and Dragons books, the Ageless owned heaven and earth, controlling the Hundred Worlds with an iron fist. Jurin, the war machine of the Ageless, conquered the Alvish homeworld with ease and the enslaved Alvs are forced into labor camps on a distant world where darkness rules the night.
"Robert Stanek expands the fascinating Ruin Mist universe with this book," said publisher Jeannie Kim. "He creates whole societies and peoples with an ease that is a joy to read. His ability to say so much using so few words is something you can only marvel at, and it makes a fun read even more entertaining. When his work starts reaching a wider mainstream audience, these books are going to catch fire."
Indeed, Rise of the Fallen makes the Hundred Worlds seem very real, as real as the original realms of Ruin Mist. Readers will enjoy learning about bug-eyed Begreth, domineering Drakon, goliath Jurin, resolute Trykaths, and more. But the most fascinating aspect of the story has to be how Robert Stanek weaves the story of adversaries together and how he takes the story to unique and interesting places. "This isn't a doorstopper fantasy where you find yourself skipping whole paragraphs and pages," said a recent reader. "This is a story that immerses you and sweeps you away."
About the series, Robert Stanek said, "I have three more Ruin Mist: Dawn of the Ages books in the works as well as tie-in comics and graphic novels. These stories that take place in the distant past also tie in to my Battle for Ruin Mist series, which starts out just before the original Ruin Mist books and carries through to more recent times. I won't spoil how exactly they tie in together, but I think readers will be pleasantly surprised."
Rise of the Fallen (Ruin Mist: Dawn of the Ages, Book 1)
Robert Stanek
RP Books & Audio
ISBN-13: 978-1575450995, $24.95 Hardcover with dust jacket
ISBN-13: 978-1575450971, $11.99 Trade paperback
ISBN-13: 978-1575451008, $21.95 Trade cloth, library edition
ISBN-13: 978-1575450988, $8.99 Paperback
ISBN-13: 978-1575451015, $13.99 Special Edition
Available at Ingram, Amazon.com, Barnes & Noble and elsewhere.
About The Author
Robert Stanek is the author of over 100 books. His epic series Ruin Mist Chronicles includes Keeper Martin's Tale, Kingdom Alliance, Fields of Honor, and Mark of the Dragon and was also released for young adults as The Kingdoms and the Elves of the Reaches #1 - #4 and In the Service of Dragons #1 - #4. He is also well-known for his Bugville Critters children's picture book series. His books have been bestsellers on Amazon.com, Barnesandnoble.com, Audible.com, and Apple iTunes. For more information, visit www.robertstanek.com and www.ruinmistmovie.com.
About The Publisher
RP Books & Audio was founded in 1994 as Virtual Press. Our products fall into four major categories: children's fiction, teen fiction, adult fiction and nonfiction. Our imprints include Reagent Press, Reagent Press Books for Young Readers, RP Audio, RP Audio Kids, and Classroom-To-Go. www.reagentpress.com and dragons.reagentpress.com.
###