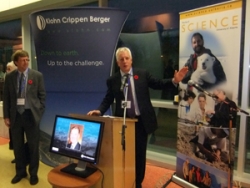 Edmonton, Canada, November 13, 2010 --(
PR.com
)-- Members of the government, public and private sectors came together to celebrate the opening of the North Lecture Theatres at the Centennial Centre for or Interdisciplinary Science on Monday, November 8th, 2010. Klohn Crippen Berger co-hosted the event which included a cocktail reception and a presentation in the new Conoco Phillips Canada North Lecture Theatre. The guest speaker for the evening was the honourable Dr. Preston Manning who gave a presentation on "Facilitating Innovation."
"The purpose of the Centennial Centre for Interdisciplinary Science is to promote collaboration between the sciences to drive innovation," said Bryan Watts, CEO of Klohn Crippen Berger and University of Alberta alumni. "At KCB, we are strong believers in collaboration and have been integrating social, environmental and geotechnical sciences for over 20 years. Bringing a balanced approach to major projects is the best way to meet the needs of society."
To further support innovation in the sciences, Klohn Crippen Berger presented a gift of $60,000 to the University of Alberta to be put towards tailings research.
"Earle Klohn was a pioneer in tailings dam design in the 60s and 70s," said Bryan. "We feel it's critical to drive research in this speciality to continue to improve the management of Canada's most important resources."
Klohn Crippen Berger offers global engineering and environmental services to the mining, power, transportation, oil sands, offshore and pipeline, and water resource sectors worldwide. Klohn Crippen Berger was named one of Canada's 50 Best Managed Companies in 2008 and 2009 and will be celebrating its 60th anniversary in 2011.
###