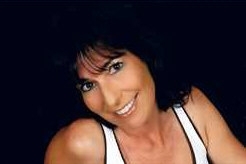 Miami, FL, November 20, 2010 --(
PR.com
)-- "Unstoppable! Surviving Is Just The Beginning" ... Author, Motivational Speaker and Business Woman Gigi Stetler will be at the Miami Book Fair International Street Fair signing books this Friday, Saturday and Sunday November 19th, 20th and 21st.
"Gigi's story is about a girl who wouldn't give up. It reads like a best seller, replete with plot twists, shady characters and a heroine with many layers. A father figure mentor who gave her a chance later stabbed her in the back, an attacker who literally stabbed her 21 times and left her for dead and success in an industry that conspired to keep her out. In every instance, where Gigi was knocked down, she got up, brushed herself off, and came back stronger than ever", says Richard Angulo. Gigi says, "I kept my sights on my goal even when it seemed like a never-ending nightmare. No one and nothing was going to stop me from that goal."
"A single mom that didn't finish the 10th grade, Gigi became a queen of the male-dominated recreation vehicles industry, presiding over the $18 million-a-year RV Sales of Broward as the first female owner of an RV dealership in the country. She redefined the climate of the RV industry and became an inspiration to women everywhere", says Richard Angulo. Gigi says, "My road to success has been more of a motocross obstacle course – full of peaks and valleys, dips and hurdles – rather than a paved highway to triumph. Every inch of success took fortitude and massive perseverance."
Nothing has changed for this tough-as-nails businesswoman. After exposing an industry-wide lending scam, was pressured and bullied, but refused to sell out. Lenders retaliated and RV Sales of Broward was pronounced financially dead in September 2008. Gigi says, "I won't stay down. I've been crawling and scratching my way back, never giving up, and always staying true to who I am."
Asked what makes a person unstoppable? Gigi says, "I'm sure it's different for each individual, but in my case I simply don't look back at some of the most unconscionable, ruthless things that have happened to me, and I don't waste time feeling sorry for myself. The word victim is not in my consciousness. If anything, I use those contemptible events to strengthen my future." In addition to pulling RV Sales of Broward out of the ashes, and becoming a business consultant, motivational speaker, Gigi is launching her line of all natural supplements under the brand My Perfect Bones. Gigi says, "I am set on bringing my "unstoppable" message of hope and survival to anyone who is facing hard times." Her message is simple yet powerful: only you direct your own present and your own future - "Greet life as a warrior, not a victim." (Published by JAS Literary Publishing, ISBN 978-0-615-40507-0, 215 pp, pb, $24.95)
About the Miami Book Fair International
The 27th edition of the nation's finest and largest literary gathering, Miami Book Fair International, presented by the Florida Center for the Literary Arts (FCLA) at Miami Dade College (MDC), will take place November 14 - 21, 2010, at the college's Wolfson Campus in downtown Miami. The popular Street Fair runs Friday, November 19 through Sunday, November 21 from 10 AM to 6 PM. For more information visit www.miamibookfair.com
About JAS Literary Publishing
JAS Literary Publishing (JAS) is a publishing company targeting artists and writers looking for someone to mentor or coach them along their journey of getting published. JAS assists aspiring artists and writers as well as self-published authors meet the challenges of a dynamic publishing industry. From conception to distribution, JAS is capable of bringing their dream to life.
Media and Booking Contact: Stephen O'Connor
Phone: 877-243-8716
JAS Literary Publishing Contact: Richard Angulo
Phone: 888-587-3337
###