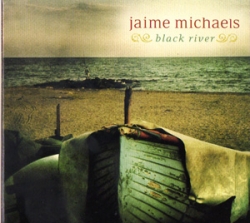 Santa Fe, NM, November 19, 2010 --(
PR.com
)-- Jaime Michaels New Single, "Black River," to Benefit Gulf Charity
Recording artist Jaime Michaels announces that all proceeds from his new single, "Black River," from the forthcoming CD "The Man With the Time Machine" will be donated to the Greater New Orleans Foundation to benefit families whose livelihoods were affected by the Gulf Oil Spill.
Michaels sought to benefit those whose livelihoods have been challenged by the spill and chose to partner with the Greater New Orleans Foundation. The Foundation is active in supporting communities in Louisiana and fostering growth and stability. Though the spill has been capped, the economic impact on the area will continue for years and years to come. All proceeds of the single will go to the Foundation.
Michaels, now living in Santa Fe, grew up in the Northeast in a close family. Says Michaels, "When I was young, the matriarch of my family was a 4 foot 11 inch feisty woman named Filmena Venucchi Falardi, 'Fanny' for short, my great-grandmother. Born in Salerno, Italy in 1879, she came to the United States as a young girl."
While in the studio recording his latest CD, Michaels was struck by a news report he glimpsed. Says Michaels, "I saw an interview with a young fisherman who just happened to have an Italian last name. He emotionally spoke of the loss of not only his livelihood but also of a way of life and sense of place that had sustained his family for five generations. I couldn't help but think of Fanny and what it might feel like to lose something that had been at the center of our family since she was a girl. The song 'Black River' was born of those feelings."
The single precedes Michaels's new album, "The Man with the Time Machine," to be released in January. The CD was produced by famed studio magician Jono Manson and features Blues Traveler's John Popper, New York indie legend Kevin Trainor (of New York alt-country favorites The Surreal McCoys) and accordionist Joel Guzman. "Black River" is available through the website www.jaimemichaels.com.
###
About Jaime Michaels: Jaime Michaels is a Santa Fe-based singer/songwriter of national renown. His recent appearances have included a mainstage appearance at the Kerrville Folk Festival where he released his 7th solo CD, "crooked." He was also the winner of the 2009 Susanne Millsaps Songwriting Competition at the Snowbird Music Festival in Utah and performed at the 2010 festival in July as a mainstage performer. He was an official showcase selection at the 2009 Southeast Regional Folk Alliance conference. And the 2010 FAR-West conference.
About the Greater New Orleans Foundation: Founded 25 years ago, Greater New Orleans Foundation seeks to create a resilient, sustainable, vibrant community in which individuals and families flourish and in which the special character of the New Orleans region and its people is preserved, celebrated, and given the means to develop. On the web at www.gnof.org