The Diet Joke Announces New Overeating Advisory System -- Warns Americans of Holiday Risk
Lisa Pedace, award-winning author of The Diet Joke, unveils her new color-coded Overeating Threat Level System -- warns Americans of overeating risk this holiday season.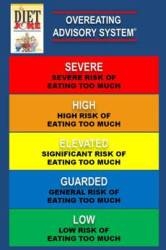 San Diego, CA, November 21, 2010 --(
PR.com
)-- Lisa Pedace, comic and author of the award-winning book, The Diet Joke, announces her new Overeating Advisory System, just in time for the holidays. According to Pedace, the current overeating threat level for the country is Red, and she cautions Americans to be on high alert not to overeat during the holiday season.
"The Overeating Advisory System is a color-coded threat level system, just like Homeland Security uses. And it works the same way, which makes it easy for people to understand because they're already familiar with it," Pedace says.
Just like the government's terrorist threat level advisory system, Pedace's Overeating Advisory System has five risk levels:
Red - "Severe" risk of eating too much
Orange - "High" risk of eating too much
Yellow - "Elevated" or significant risk of eating too much
Blue - "Guarded" or general risk of eating too much
Green - "Low" risk of eating too much
"With two-thirds of this country overweight or obese, the majority of Americans are at Threat Level Orange most of the time, except when they sleep and then they go down to Yellow." Pedace says. "Thanksgiving is definitely Threat Level Red for the nation because on Thanksgiving most Americans have a severe risk of eating too much."
Preparing for these high-risk situations requires the same diligence Americans have grown accustomed to while traveling. At every level of elevated risk, Pedace recommends the following:
• Be vigilant. Don't eat with your eyes closed.
• Take notice of your surroundings. If you're sitting next to the mashed potatoes, be aware that an attack could occur at any moment. Pass the mashed potatoes to the other end of the table before the situation escalates out of control.
• If necessary, establish a No-Eat List. For example, if you can't enjoy a small piece of pie without devouring the whole tin, consider putting pie on your No-Eat List for the evening.
In the event of an overeating attack, Pedace says developing an emergency plan is a good idea. A long walk can help alleviate some of the damage as long as you don't head to the kitchen for leftovers as soon as you return.
Pedace's funny, common-sense book, The Diet Joke, is a Mom's Choice Award Gold Recipient and winner of the Next Generation Indie Book Award. It will be featured on the Dr. Laura radio program during Thanksgiving week as part of Dr. Laura's Book Giveaway Program, and then featured on her website as recommended reading.
The Diet Joke is published by Big Shot Press and retails for $14.95. For more information, visit www.thedietjoke.com.
###
Contact
The Diet Joke
Lisa Pedace
858-272-8148
thedietjoke.com

Contact
Multimedia
Lisa Pedace, author of The Diet Joke, announces her new Overeating Advisory System