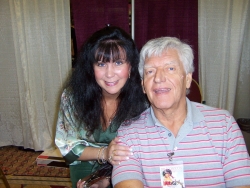 Hollywood, CA, November 23, 2010 --(
PR.com
)-- This weekend promises to be a treat for all Movie & Science Fiction fans in London, England. Over 75 Hollywood Celebrity Guests, as well as dozens of other Celebrity Sportsmen will be appearing at The Entertainment Media Show and Collectormania London during Saturday & Sunday, November 27-28, 2010 at the (Kensington) Olympia 2, Hammersmith Road, London, W14 8UX.
The show times are: Saturday, November 27th from: 9am - 6pm. Sunday, November 28th from: 9am - 5pm. Ticket prices are 10 pounds for the "Early Bird" ticket, which gets you in at 9am on both days. Standard ticket prices are 5 pounds, which gets you in at 11am on both days.
Many of the Harry Potter Celebrities who appeared in the movie will be on hand, such as Harry Melling, Jessie Cave & Miriam Margoyles. They were originally scheduled to appear at "Muggle Mayhem 2" where Charity Proceeds from that show were to be donated to The Multiple Sclerosis Society of Scotland. However, "Muggle Mayhem 2" was cancelled & these Celebrity Guests have been rescheduled to appear at this Collectormania London event.
Show favorites include: David Prowse (Darth Vader in "Star Wars," see photo of David Prowse with Helen Darras), Cary Elwes ("Princess Bride"), Donald Fullilove & J.J. Cohen ("Back To The Future"), Miko Hughes ("Pet Sematary"), Carl Weathers ("Rocky"), Tom Wopat ("Dukes of Hazzard"), Susan Blacklinie (the girl who was eaten by the Shark in the opening scene of the movie "Jaws"), Helen Darras (seen on Season 1 of the SyFy Channel's new show "Hollywood Treasure" & author of a book about an actor from "The Munsters" TV Show) Paul Goddard ("The Matrix") and many others.
There are many dealer tables with lots of collectible items to purchase just in time for the Holiday Season. Autographs & Photoshoots with Celebrities are available for various prices. Collectormania London is expecting a tremendous crowd and looks forward to seeing everyone this weekend. Check out the website by pasting this site to your web browser: http://www.collectormanialondon.com
###