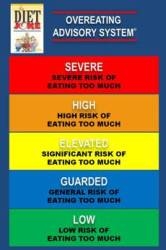 San Diego, CA, November 29, 2010 --(
PR.com
)-- One week after Lisa Pedace, comic/author of the award-winning book, The Diet Joke, announced her new color-coded Overeating Advisory System to help Americans watch their weight, Homeland Security says it wants to dump its similar system for something more up-to-date.
According to officials who spoke to the Associated Press on the condition of anonymity, The Homeland Security Department is proposing a streamlined terror alert system to replace the familiar five-color-coded system that's been in effect for eight years. Proposed changes include fewer colors, more descriptive words, even a different name.
"I'm glad I found a new use for the old system before it's thrown out completely," Pedace said. "Just scrapping the whole thing, after we all took the time to learn it, isn't very green. I don't mean the terror-level-kind-of-green. I mean the Ed Begley-kind-of-green."
Pedace's Overeating Advisory System is just like the Homeland Security Advisory System, except it's designed to fight another threat facing this country - the threat of obesity, which currently affects about one-third of the U.S. population.
"This administration is focused on reducing childhood obesity, and that's a real problem, but we also have too many overweight and obese adult Americans," Pedace said. "According to a recent study from Harvard researchers, the adult obesity level in this country will continue to rise unless we do something about it. The Overeating Advisory System is my contribution."
Just like the Homeland Security System, the Overeating Advisory System has five threat levels and corresponding colors. Last week Pedace announced that the current overeating threat level for the country is Red, or Severe, meaning that all Americans have a severe risk of eating too much until the end of the year. Pedace expects the threat level will drop to Orange in January, and stay there most of the time, except around the holidays, and maybe elections, too.
The Diet Joke, Pedace's first book, is a laugh-out-loud, common-sense approach to better health. Filled with hilarious observations, sound advice, and simple reprogramming activities, The Diet Joke encourages readers to avoid quick-fix weight loss gimmicks and focus on making permanent lifestyle changes.
Published by Big Shot Press, The Diet Joke is a Mom's Choice Awards Gold Recipient and winner of the Next Generation Indie Book Award in the Diet/Nutrition/Food category. It was featured on the Dr. Laura Program last week and is listed on the show's website as Recommended Reading.
The Diet Joke retails for $14.95 and is available on Amazon.
For more information, visit www.thedietjoke.com.
###