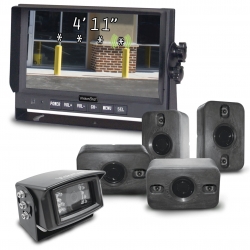 Cleveland, OH, December 03, 2010 --(
PR.com
)-- Mobile Awareness LLC, a provider of leading-edge transportation safety products, today announced a high resolution digital monitor upgrade for all VisionStat™ Camera Systems.
The digital VisionStat monitor presents a significant upgrade in picture quality found on both wired and wireless color camera systems offered for vehicle blind spot detection. Each of the digital VisionStat systems is a rugged and easily installed video solution available with either a 5.6" or the 7" Color LCD Monitor. The digital monitor is configurable with up to four (4) infrared night vision CCD cameras and offers higher resolution, greater image clarity and automatically back-lit buttons for improved user visibility.
The new digital monitor is also contained in VisionStat™ Plus, an advanced safety solution which integrates the SenseStat™ Obstacle Detection Sensor System directly into the wired VisionStat Camera System with no additional wiring required. The combined features allow for both an active (audible) warning and a passive (visual) confirmation via a CCD camera. This provides the distinct advantage of viewing a rearview camera image superimposed with the actual distance measurement (accurate to 1-inch) to the closest object within any of four (4) sensor zones. Whenever the driver is not viewing the monitor, the system provides an audible alert should an unforeseen object appear behind the vehicle.
"Mobile Awareness continues to see an increasing demand among our customers for more flexible, effective and affordable safety systems," says Brandon Stotsenburg, Vice President of Sales & Marketing at Mobile Awareness. "By offering the digital VisionStat improvements, we continue our commitment to provide easy-to-install, cost-effective and technically advanced solutions for increased vehicle safety."
In the past, customers were limited to monochrome or analog color monitors. The new digital VisionStat monitors offer improved image quality over those older technologies, yet still maintains the affordability Mobile Awareness is known for. To assist its customers in assessing this latest technology, Mobile Awareness offers a reduced cost End-user Evaluation Program. This allows fleets to experience the benefits of enhanced safety on their particular vehicles, in a controlled environment, with minimal investment.
Stotsenburg concludes, "One of the most critical safety situations occurs when the driver must clearly see objects or people on his video monitor. With the VisionStat digital monitor, he will have improved awareness to an unforeseen object or individual in a blind zone. Ultimately, this added driver awareness will reduce costs by limiting preventable accidents."
About Mobile Awareness
Cleveland, Ohio based Mobile Awareness, LLC™ designs and markets leading-edge, affordable transportation safety products. The company provides integrated accident prevention solutions for commercial transportation professionals with its VisionStat™ Wired & Wireless Vehicle Camera Systems, TireStat™ Tire Pressure Monitoring Systems (TPMS) and SenseStat™ Wired & Wireless Obstacle Detection Sensor Systems. For more information, please contact Mobile Awareness, Toll Free: 866-653-5036 or visit www.MobileAwareness.com
Mobile Awareness…Reducing the Total Cost of Safety™
###