Trupanion Celebrates the Holidays with Stories and Charitable Contributions
Trupanion announces two holiday-inspired contests that give pet owners the opportunity to tell their pet story while also allowing them to give back to the pet community.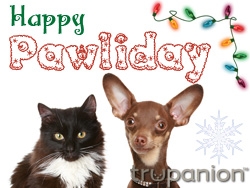 Seattle, WA, December 06, 2010 --(
PR.com
)-- Trupanion, North America's fastest growing
pet health insurance
company, has announced two holiday promotions that aim to spread some holiday cheer. The December promotions encourage pet owners to write inspirational stories about their pet for the chance to win money to give to charity and other prizes.
Trupanion's first promotion encourages pet owners to write a story about being a 'Tru Hero' in which the pet owner incorporates their own interpretation of a 'Tru Hero' into a story about their pet. Twenty-five second-place winners will be chosen to receive a copy of pet photography book, Dogphoria by Jim Dratfield. One grand prize winner will also receive a copy of Dogphoria, as well as an iPod Nano. The grand prize winner also gets their own chance to spread holiday cheer with $500 to give to a charity of their choice.
The second promotion is for pet lovers who own or manage a blog. Bloggers are invited to write a blog post on the topic "How My Pet's Love is My Holiday Gift" for a chance to win cash prizes.
"With the busyness of the holidays, sometimes we can forget to slow down and appreciate what we have," said Darren DeFeo, Senior Vice President of E-Commerce at Trupanion. "We want to remind pet owners of the greatest gift of all – the love of their pet."
Trupanion continues the holiday fun with short contests every week in December, with fun themes such as holiday-inspired pet photos and creative photo captions.
For more information about Trupanion promotions, visit http://blog.trupanionpetinsurance.com/december-2010-trupanion-giveaways.
About Trupanion™
Trupanion™ pet insurance offers cat insurance and dog insurance in the United States and Canada. Trupanion™ is self-underwritten by the American Pet Insurance Company, allowing Trupanion™ to offer a simple, customizable pet insurance policy with no payout limits and 90% coverage of veterinary bills. Enrolled pets receive lifetime coverage for diagnostic tests, surgeries, and medications if they get sick or are injured, with no incident, annual or lifetime limit. Trupanion's mission is to deliver fast, simple and user-friendly financial support to pet owners. For more information about Trupanion™, call 800-569-7913 or visit http://www.TrupanionPetInsurance.com.
About the North American Pet Health Insurance Association
Trupanion™ is a founding member of the North American Pet Health Insurance Association (NAPHIA). Founded in 2007, the North American Pet Health Insurance Association is committed to educating and promoting the values and benefits of quality pet health insurance to North American pet owners, the general public, and the veterinary community. As an association, we are committed to high standards and transparency in all of our actions and products. To learn more, visit the North American Pet Health Insurance Association website at http://www.naphia.org.
###
Contact
Trupanion
Heather Reynolds
800-569-7913
www.trupanionpetinsurance.com
888-738-7478 ext. 3124

Contact