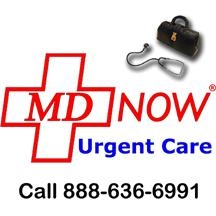 West Palm Beach, FL, December 05, 2010 --(
PR.com
)-- Influenza cases are now being reported in Palm Beach County by
MD Now Urgent Care Centers
.
In response to this recent increase in Influenza A cases, MD Now Urgent Care is now providing $10 seasonal influenza vaccines, see coupon on its website,
www.MyMDNow.com
, for its patients and the residents of Palm Beach County, Florida. Seasonal Flu shots are being given on a walk-in basis at all MD Now Urgent Care Center locations throughout Palm Beach County, including the Boca Raton, Boynton Beach, West Palm Beach, Lake Worth, Royal Palm Beach, Royal Palm Beach, Wellington and Palm Beach Gardens facilities.
As one of the largest providers of urgent care walk-in medical services in South Florida, MD Now Urgent Care Centers are traditionally one of the first doctor's offices to receive the flu vaccine in Palm Beach County. MD Now's staff has been administering the seasonal influenza vaccine to local residents for months, but due to ordering too much flu vaccine this year, MD Now has decided to provide an online coupon to encourage people to get vaccinated and will give away its last flu shots for only $10 each, while supplies last.
Peter Lamelas, MD, the Medical Director and CEO of MD Now Urgent Care Centers, a former Emergency Room physician and Medical Director for over seventeen years, says that so far this year's flu season has been a relatively mild compared past seasons, but agrees that it is far from over yet. "We have seen less cases so far this year but several patients that we have treated have been much sicker than expected and some even required hospitalization.
"We have been seeing a few cases of Influenza A sporadically and with the holidays and Florida tourist season just under way we have noticed a spike in cases last week," says Dr Lamelas. "Unfortunately, a lot of people are not taking it as seriously as they have in previous years. The seasonal flu vaccine this year that MD Now has in stock is an 'all in one vaccine' and protects against the three seasonal viruses - including H1N1 - that research suggests is the most common this flu season."
The CDC has now recommended that people of all ages from children to adults, get the seasonal flu shot this year, as it is the first and most important step in protecting against the seasonal flu and its complications, such as upper respiratory infections, bronchitis, pneumonia and even death.
Dr Lamelas, expects that this year's flu activity will continue to slowly rise and will peak in the next couple of months, but also as in prior years expects more and more influenza cases and activity to linger into the spring and even summer months. "It is a serious issue that, less media attention about influenza this year has caused the public to let their guard down and not be as concerned, as they were last flu season." The average seasonal flu generally affects and causes the most deaths among those with chronic illness and the elderly population; however last year's swine flu outbreak affected children and young adults, including pregnant women, most severely.
According to the CDC, the seasonal flu typically causes about 36,000 death and 200,000 hospitalizations every year, mostly among older adults and high risk groups.
Who should get the 2010-2011 Seasonal "all in one" Flu vaccine now?
"Everyone who wants to reduce their chances of getting sick with the flu this holiday season should get the flu shot, and as soon as possible since it may take a couple of weeks to develop immunity after the vaccination is given," says Dr Lamelas. "Vaccination is especially important for people at high risk of serious flu complications, including young children, pregnant women, people with chronic health conditions like asthma, diabetes or heart and lung disease and people 65 years and older."
Getting immunized against the flu will reduce or prevent you and your loved ones from the adverse effects of influenza this season, since the flu is highly contagious and even if you're healthy it can easily spread to family, friends and coworkers who might be at higher risk of complications.
Wash your hands frequently with soap and water and use alcohol based hand sanitizers which are effective in reducing the spread of influenza. Use disinfectants to routinely clean touched surfaces, like doorknobs, keyboards and telephones and avoid touching your eyes, nose or mouth.
If you get the flu, stay home from work and cover your mouth when you cough. Seek medical attention as soon as possible since antiviral drugs can make your illness milder and make you feel better faster but they work best if started within the first 2 days of symptoms. They may also prevent serious flu complications. For current updates on influenza and flu vaccine availability, check our website;
http://www.MyMDNow.com/flu
.
About MD Now Urgent Care
MD Now Medical Centers, Inc.
is the largest physician owned walk in clinic, provider of urgent care, immediate care and occupational medicine in South Florida. MD Now Urgent Care currently has six locations throughout Palm Beach County: West Palm Beach, Palm Beach Gardens, Lake Worth, Royal Palm Beach, Boynton Beach and Boca Raton, and is in the process of opening three new locations this coming year. Founded by Peter Lamelas, MD, MBA, FACEP, the facilities are full service urgent care centers providing a wide spectrum of healthcare services, including occupational medicine, physical therapy, drug testing, DNA testing, school physicals and immunizations, work physicals, FAA (Flight) and immigration physicals, travel vaccines, tetanus shots, flu shots, rapid flu testing and flu treatments, onsite digital X-rays, ultrasound imaging, lab and blood testing, confidential STD testing, car accident injury medical care, work related injury medical care and onsite healthcare services.
MD Now's urgent care centers provide a much less expensive and less time consuming alternative to the ER for non-emergency care, and are a quicker and more convenient option than waiting for a doctor's appointment. Every location is open 365 days a year from 8:00 am to 8:00 pm, including all weekends and all holidays. At MD Now Urgent Care Centers, most patients are seen, treated and released in less than an hour. All major insurance is accepted, but not required and no appointment is necessary. MD Now Urgent Care Walk-In Medical Centers are all "Certified Urgent Care Centers," by the Urgent Care Association of America,
www.UCAOA.org
.
Contact Info;
Peter Lamelas, MD, MBA, FACEP, CEO & Medical Director
MD Now Urgent Care Walk In Medical Centers
2007 Palm Beach Lakes Blvd
West Palm Beach, FL 33409
561-420-8555
Email: info(at)mymdnow(dot)com
Website:
www.mymdnow.com
###