Adconion Media Group Moves Into New 40,000 Square Feet Santa Monica Headquarters
Adconion, the largest independent global audience and content network, has relocated their US headquarters to a new 40,000 square feet space in Lantana South, 3301 Exposition Blvd., Santa Monica reflecting an aggressive company growth planned for 2011.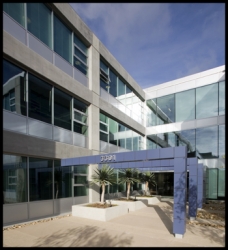 Santa Monica, CA, December 29, 2010 --(
PR.com
)-- Adconion Media Group, the largest independent global audience and content network, has relocated their US headquarters to a new 40,000 square feet office space in Lantana South, 3301 Exposition Boulevard, Santa Monica. Out-growing their 15,000 square feet office in Santa Monica's Third Street Promenade office, this move reflects an aggressive company growth planned for 2011. As more and more technology companies head south, Southern California and in particular Santa Monica, is fast becoming tech-central. Santa Monica has become endearingly nicknamed the "Silicon Beach."
"We are growing despite the protracted recession, and this requires a space that could accommodate our current—and anticipated future—expansion as well as complementing our creative culture," said Jeremy Daw, Adconion's chief technology officer. "Everyone now has the space and environment that allows for solo creative time plus team time to blend naturally. This really helps our teams focus and innovate interesting solutions. The new, customized break out team rooms allow each team, especially our engineering, to setup a space they enjoy and where they can share their work easily. Lantana South is well suited to our needs, and we couldn't be more pleased with the opportunity and entire transaction process to date."
The contemporary three-story structure was built in 2008 and is LEED Certified Gold. Adconion will occupy the entire first floor, which features an open layout floor plan with abundant natural light flow, concrete flooring, exposed industrial fixtures and 1,000 square feet of ready access outdoor patio space. Furthermore, the re-configured interior lobby also creates a more open, light-filled space with unique architectural redwood doors. On-site showers/locker-room facilities and a ground-floor café are currently being constructed. Ample parking, environmentally conscious landscaping and outdoor commons area with a dedicated beach volleyball court rounds out the amenities provided.
Studley, a global tenant advisory firm, represented Adconion in the headquarters relocation. Robert A. Cavaiola, Jr. brokered the transaction and was assisted by project manager Laura Whelan. The Lionstone Group owns the space at 3301 Exposition Boulevard.
"It was a pleasure to work on behalf Adconion to secure and create a showcase headquarters for the company," said Cavaiola. "Lionstone recognized the importance of attracting a growing tenant of Adconion's stature, and worked with us to structure an opportunity that was not only financially attractive but aligned with the company's brand and creative mission."
Adconion is actively hiring and has over 100 job openings for 2011. For current job postings, please go to Adconion's US website at http://www.adconion.com/us/about-us/career.html.
About Adconion Media Group
Adconion Media Group (www.adconion.com) is the largest independent global audience and content network, reaching nearly 350 million unique users – or one-third of the total global Internet population – every month. Dedicated to true partnerships with agencies and marketers, Adconion arms agencies with customized technology and products designed in-house while delivering massive global reach across multiple platforms through a single network, and is an international leader in evolving the ad network model to create, distribute and monetize video content. Adconion has 16 offices in 7 countries around the world, sits on the board of the Interactive Advertising Bureau (IAB) and is a founding member of IASH Europe. For more information, visit: http://www.adconion.com.
About Studley
Studley is the only global tenant advisory firm with a pure tenant representative delivery platform. Founded in 1954, Studley pioneered this conflict-free business model. Today, with 19 offices nationwide and an international presence through its London office and AOS Studley throughout Europe, Studley provides strategic real estate consulting services to top-tier corporations, law firms, nonprofits, government agencies and institutions of higher education. Information about Studley is available at www.studley.com.
About The Lionstone Group
The Lionstone Group is a privately owned real estate investment firm. Founded in 2001 by partners Tom Bacon, Dan Dubrowski, and Glenn Lowenstein, Lionstone specializes in researching, conceptualizing and executing national investment strategies based on proprietary data and ideas. Each Lionstone real estate strategy is implemented by a dedicated team with discretionary capital. Visit lionstonegroup.com.
###
Contact
Adconion Media Group
SoYun Kim
310.383.8936
www.adconion.com

Contact