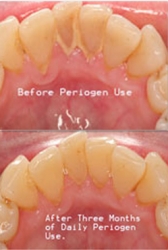 San Diego, CA, January 08, 2011 --(
PR.com
)-- Periogen Oral Rinse Expected to Revolutionize Oral Home Care
The Periogen Company today announced the availability of their premier product Periogen, a home-use oral rinse that dissolves oral tartar with daily application. Periogen is a powdered concentrate which is 25% pure baking soda. It is mixed with warm water and either swished or applied with a WaterPik Ultra oral irrigator. Taking advantage of a weakness The Periogen Company discovered in the structure of oral tartar, Periogen diminishes layers of tartar, similar to the action of a water softener.
"Tartar dissolution has been tried by Big Pharma since the mid-80's," said Doug Andersen, co-developer and General Manager at Periogen. "What we did differently was to focus solely on the optimal formula for dissolving tartar, and forget all the artificial flavors, sweeteners, colors and abrasives. Periogen tastes like nothing, which our customers like. Also important is to steer clear of bleach and alcohol from our formula, which kill the beneficial bacterial along with the bad."
"We found that when tartar is dissolved, the rest takes care of itself. Your body knows what to do after tartar - this foreign invader - is removed," added Andersen. Periogen is not a drug. Studies at Temple University conducted by Professor Thomas Rams confirm that Periogen does not harm beneficial or destructive oral bacteria at the time of application. As layers of tarter are removed, the destructive bacteria have no place to live and multiply, so their numbers rapidly diminish and then disappear along with the tarter.
Periogen in Use by Thousands of People
Periogen has been available in test markets for over three years. The Periogen Company has been quietly working with selected dentists around the country in order to develop treatment plans that best meet the needs of their patients. Says Andersen, "Periogen use diminishes tartar and makes cleaning visits a breeze, with no pain and leaving little for your hygienist to clean. The elimination of tartar, however, is only one aspect of the complex nature of oral health."
Founded in 2006, The Periogen Company is headquartered in San Diego, California. Its products are available at participating dental practices, Periogen.com and Amazon.com.
###
Periogen, WaterPik and Amazon are registered trademarks in the United States and/or other countries.
For more information, press only:
John Andersen, (951) 202-3474, john@periogen.com
For more information on The Periogen Company: www.periogen.com