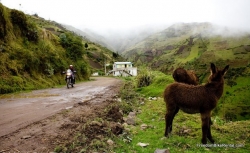 Quito, Ecuador, January 25, 2011 --(
PR.com
)-- 7. Great weather all year! No Winter! It's Spring year round - Ecuador is located right smack dab in the middle of the Earth - on the equator. There are practically no seasonal variations and no short days. There's plenty of time to ride with 12 hours of sunlight each day, all year long. You'll see snow on the tops of some of the highest active volcanoes in the world and warm, sandy beaches each within a few hours' drive of one another.
6. Incredible diversity and beauty - Practically unchanged indigenous cultures, misty tropical forests, active volcanoes, and a wealth of animal and bird life are all easily accessible within a matter of hours in a country no bigger than the U.S. State of Colorado. You can visit the ancient market places, meet indigenous peoples, experience Amazon tributaries, Inca ruins, Andean peaks, 16th century churches, and the wildlife-rich forests and jungles as well as the magnificent Pacific coast. Ecuador has the most diversity of life on the planet. It's where Charles Darwin did much of his work. The views along the way are astonishing.
5. Prices - Ecuador uses the United States Dollar as its currency. No hassles with exchange rates. The cost of living in Ecuador is one of lowest in the world. As a major oil-exporting country, the cost of gasoline is purposely set low by the government, at $1.50 - $2.20 gallon. A 3-course lunch in a local restaurant costs around $2. A night in a private bungalow at a beach resort is only $25, including dinner! Motorcycle rentals are inexpensive and include unlimited mileage – so there are no hidden, unexpected charges.
4. Adventure - Ecuador has become synonymous with "outdoor adventure." Apart from fantastic motorcycling on modern ribbons of road, there are plenty of opportunities to get off the bike for hiking, climbing, kayaking, white-water rafting, ocean surfing and paragliding. Feel like kicking back? There are also many easy-going restaurants, bars, and live music.
3. Accessibility - Traveling to and from the US is easy and economical. Round-trip flights from the USA can be obtained for about $400. Quito and New York City are on the same time zone. No jet lag. Quito's airport is served by several airlines including Delta, American, and Continental.
2. Safety and Security - According to a report released by INTERPOL: "The overall crime rate in Ecuador is low compared to industrialized countries." Ecuador has some of the lowest crime rates in Latin America and far lower rates of robbery, rape and assault than in the United States.
www.youtube.com/watch
1. Support - In this small country, help is never far away. Ecuador Freedom Bike Rental is a full-service motorcycle and tours operation, equipped with late-model motorcycles, maintained with care and diligence. Their multilingual staff is never far away with its 4X4 support vehicle. The GPS tracking units they provide are equipped with an "SOS" button that can call emergency services, if needed. Ecuadorians are, in general, huge motorcycle enthusiasts and motorcyclists are treated like rock-stars. If help is needed, roadside assistance is available usually within minutes.
###
Ecuador Freedom Bike Rental is a full-service mountain bike, motor-scooter and motorcycle rental shop located in Quito, Pinchincha. Working with local professional tour guides, they provide tours, advice and adventure for motorcycle enthusiasts.