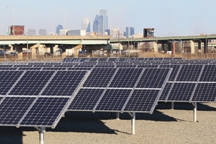 Hoffman Estates, IL, February 04, 2011 --(
PR.com
)-- The city of Philadelphia has recently completed construction on its first municipal-owned solar power plant. It joins a trend of situating solar farms near where population centers are getting the power closer to the people.
CETCO Contracting Services Company was awarded the public-bid project in compliance with all regulations of the Philadelphia public works bidding process. CETCO Contracting Services Company specializes in geo-environmental construction work, with extensive experience in the design and construction of civil and environmental technologies in applications involving waste containment, waterproofing, reinforced earth structures, brownfield remediation, sediment remediation, groundwater detention, and renewable energy.
The project was a turn-key design build PV installation for the Philadelphia Water Department. CETCO provided a complete contract performance and payment bond for the project. Malcolm Pirnie provided initial design guidelines and interconnection locations, and CETCO provided a turn-key PE stamped design of the PV system that included equipment procurement, decision on type and location of PV modules, geotechnical investigation and engineered structural design of the arrays, electrical engineering of the interconnections and system performance, inverter sizing, conduit and wiring schedule requirements, and monitoring system selection. The project is located at the Philadelphia Water Department's Southeast Water Pollution Control Plant and will be completed this spring. CETCO will be providing a two-year maintenance contract with the project.
The system is ground mounted and covers more than an acre. It was designed to produce enough energy to power 28 homes, and all of it will be used at the treatment plant. The water department will own the solar renewable energy credits. The project is intended to help meet the Greenworks Philadelphia goal to purchase or generate 20% of electricity used in Philadelphia from alternative energy sources by 2015. The project is made possible by $850,000 from the City's Energy Efficiency and Conservation Block Grant from the U.S. Department of Energy, leveraged water department funds and technical assistance from DOE's Solar America Cities program. The system was turned on Monday, January 31, and is now generating power for the city.
For more information, contact Dana McCombs, CETCO Marketing Manager at dana.mccombs@cetco.com
About CETCO Contracting Services Company: Located in Trevose, Pennsylvania, CETCO Contracting Services Company is a wholly-owned subsidiary of Colloid Environmental Technologies Company (CETCO). CETCO is a division of AMCOL® International Corporation.
About AMCOL® International Corporation: Headquartered in Hoffman Estates Illinois, AMCOL operates over 68 facilities in North America, Asia, Australia, Europe and South America. The company employs approximately 1750+ employees in 26 countries. The company, established in 1927, currently trades on the New York Stock Exchange under the symbol "ACO". AMCOL International produces and markets a wide range of specialty mineral products used for industrial, environmental, and consumer-related applications. With more than 68 worldwide locations, AMCOL manages a global supply chain to deliver world-class quality. Our full range of products and services allow us to bring value to our customers. Ultimately, we believe our commitment to understanding customers' needs is what sets us apart in our industry.
###