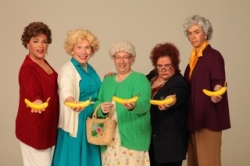 Los Angeles, CA, February 17, 2011 --(
PR.com
)-- Limited Return Engagement Opens March 4th at the Meta Theatre on Melrose
Homecoming night for The Golden Gays is set for March 4th 20011 at the Meta Theatre on Melrose. Produced by Los Angeles based writer John Trapper, this new work explores the world of four older gay men who are unhealthily obsessed with the famous foursome. Thanks to their equally dysfunctional therapist, they are able to explore their obsession through a novel new therapy. Through the process, they are also able to search their shallow souls for answers to other questions facing older gay men, the answers often coming in the form of a show tune from the decades familiar to thirty-somethings and above.
The Golden Gays is scheduled for a six week run (March 4th – April 10, 2011) at the Quaint Meta Theatre which is nestled between the Fairfax District and West Hollywood. Performances are at 8pm on Friday and Saturday and 7pm on Sunday. Tickets are $37.50 and can be purchased in advance at a discount through plays411com, LA Stage Alliance, Goldstar, Stubdog, or directly via
www.thegoldengays.com
. The Meta is located at 7801 Melrose Avenue (near Fairfax). The neighborhood is full of nightspots for before Theatre dining and after Theatre libations.
Widestance Productions first brought these men who resemble women to life in September of 2009 with quick comeback in Los Angeles in January so they could tune up to take the show to larger venues in Palm Springs and Miami. The show received accolades from critics and the Public alike and was a BroadwayWorld.com People's Choice Award winner in two categories (best ensemble, best new work). All previous performances were sold out. This show, originally written over ten years ago has shed a character and a few unneeded lines for this new rendering. This version will be directed by Sean Riley and the Musical Director is Anthony Starble.
WideStance is proud to introduce a brand new cast to the show, beginning with the very talented Donna Pieroni as the Therapist who prescribes the unusual therapy in the first place. Pieroni is a regular face on National television, most recently in shows such as "Dexter" and "Weeds." In addition, she has been in numerous stage productions throughout Los Angeles including the infamous Mrs. Lovett in Sweeney Todd. Topping off the feisty foursome is Los Angeles Veteran Marc Segal (Sam/Sophia) who currently spends his days teaching high school drama in the conservative suburbs. Recently Marc made the local papers with a highly visible scandal when he attempted to mount the highly controversial musical "Rent." We can't help but wonder what the school board is going to think of this appearance. Placing age before beauty, Kevin Fabian, will be playing the role of Roger/Rose. Kevin will be a familiar face to fans of "Will and Grace," "The West Wing," and most recently "Chuck" along with oodles of L.A. live Theatre. Guy Windsor (Blaine/Blanche) most recently was seen as Peggy Bundy in "Fairies With Children", the WideStance version of a Political satire. He has tv and film credits galore including "Gray's Anatomy" and "Las Vegas" along with too many musical Theatre roles to mention. Brian Rohan, our Damien/Dorothy has a well rounded plate of Theatre, TV and film with the most well known credits being of the horror genre in films like the award winning "Criticized." Bringing up the testosterone factor in the show is live in Actor for the therapy Mario, played by Dick Nenning.
As always with his shows, Trapper will use this production as a fundraiser for a gay related charity. This run, $1.00 of every full price ticket sold will go to The Life Group Los Angeles, Founded in 2005 The Life Group LA provides free of charge, much needed information and emotional support through medical forums, emotional support groups and the POZ Life Weekend Seminar. All services are offered in a non-judgmental and safe environment with compassion and understanding. In addition, Trapper is working on securing a large venue in Long Beach in which one large-scale performance of the show will benefit the Care Program at St. Mary's Hospital, where the majority of HIV positive individuals in the Southbay receive resources relevant to their status.
(Photos of Cast in Costume available on Website)
###