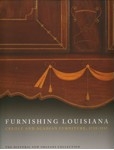 New York, NY, March 08, 2011 --(
PR.com
)-- Carlton Hobbs, the leading specialist in museum quality 17th-19th century British and Continental furniture and decorative arts, has announced that they are hosting the New York launch of "Furnishing Louisiana": Creole and Acadian Furniture, 1735–1835 at their New York gallery, at 60 East 93rd Street, New York.
The opening night reception, on March 24th, will be preceded by a lecture on the subject of the book by co-author Cybèle Gontar, current Ph.D. candidate in 18th and 19th century American Art at CUNY's Graduate Center.
"We are delighted to host the New York launch of this important academic work published by The Historic New Orleans Collection in our gallery and are much looking forward to Cybèle Gontar's lecture on the emergence of a distinctive regional style, shaped by the fascinating blend of technical skills and stylistic devices brought to this region's furniture production by French, Anglo-American and Creole immigrants," remarked Stefanie Rinza, the company's managing director.
Described by The Historic New Orleans Collection as its latest and most ambitious publication, this magisterial study evokes an era before mass production and ease of transport began to homogenize furniture design across America. From the early 18th through the mid-19th centuries, distinctive cabinetmaking traditions developed along the Mississippi River through a melding of French, Anglo-American, Caribbean, French-Canadian, and African influences. Furnishing Louisiana stands as tribute to the region's cultural diversity and remarkable artistry.
Louisiana's earliest colonial furniture hewed closely to French models. Yet an influx of immigrants at the turn of the 19th century - refugees from the Haitian Revolution and Anglo-Americans drawn south and west in the wake of the Louisiana Purchase - had a striking impact on the region's crafts. The fusion of acculturated European craftsmanship and contemporary Anglo-American fashion produced a novel aesthetic in the New World: the Louisiana Creole style. And while highly refined cabinetwork emerged from cosmopolitan New Orleans, another tradition was developing to the west on the Acadian prairies. Informed by distant memories of France and recent memories of Canada, and modified by Louisiana's climate and available materials, Acadian furniture stands alongside Creole craftsmanship as an enduring reflection of a time, a place, and a people.
Featuring more than 1,200 full-color illustrations, Furnishing Louisiana presents a comprehensive catalogue of furniture forms produced in the upper and lower Mississippi River valley. The book also offers contextual essays on cabinetmakers, hardware, woods, inlay, the import trade at the Port of New Orleans, and the interior of the early Louisiana home.
Cybèle T. Gontar is a Ph.D. Candidate in 18th and 19th century American Art at CUNY's Graduate Center. Gontar holds an M.A. from Cooper-Hewitt National Design Museum in History of European Decorative Arts. From 1999-2007, she maintained the Metropolitan Museum of Art's European Sculpture and Decorative Arts database through TMS. In 2002, she worked as a researcher for James Madison's Montpelier. She has written extensively for The Magazine Antiques, Antiques & Fine Art, and The Metropolitan Museum of Art. Currently she teaches Modern European and American art at the Fashion Institute of Technology in NYC.
Carlton Hobbs is a noted independent dealer in rare antique furniture and historic objects. Founded in 1973 and headquartered in New York in the former Vanderbilt Mansion at 60 East 93rd Street, the firm acquires, researches, and sells antiques to museums and discerning clients throughout the world.
Some of the world's leading museums and private collections now house Carlton Hobbs' pieces including, amongst others: The Musée du Louvre, The John Paul Getty Museum, The Rijksmuseum, The National Gallery of Australia, The Virginia Museum of Fine Arts, The Boston Museum of Fine Arts, The Musée des Beaux Arts, Dijon, The Bowes Museum, Paxton House, The National Gallery of Greece, The Leeds Museum and Gallery, etc.
Carlton Hobbs is located at 60 East 93rd Street, between Madison and Park Avenues in New York. Opening hours are Monday through Friday, 9 am to 6:00 pm. For more information, please call 212-423-9000 or visit http://www.carltonhobbs.com.
Furnishing Louisiana is available for purchase at The Shop at The Collection, www.hnoc.org or (504) 598-7147; at independent booksellers nationwide; and through major online retailers. Retail price is $95 plus tax.
Furnishing Louisiana: Creole and Acadian Furniture, 1735–1835
By Jack D. Holden, H. Parrott Bacot and Cybèle T. Gontar
with Brian J. Costello and Francis J. Puig
Edited by Jessica Dorman and Sarah R. Doerries
Photography by Jim Zietz
Design by Tana Coman
Published by The Historic New Orleans Collection, December 2010
Printed in Italy by Mondadori
$95
Hardcover • 552 pp. • 1,200+ color illustrations • 9½" x 12½"
ISBN-13: 978-0-917860-56-0 • ISBN-10: 0-917860-56-X
or Sarah Doerries at (504) 556-7651 or sarahd@hnoc.org for details.
###