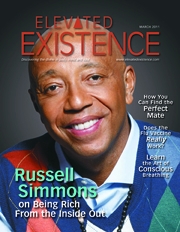 Elmwood Park, NJ, March 09, 2011 --(
PR.com
)-- Elevated Existence Magazine, a digital, spiritual publication with a self-improvement focus, interviewed hip hop mogul Russell Simmons about his new book "Super Rich: A Guide to Having it All," for the March 2011 issue of the magazine. Simmons unveils how the spiritual practices, including yoga, meditation and giving back to others, contributed to his success in life and explains to others how to get there, too.
"People don't understand that noise is the biggest distraction separating them from their goals," Simmons said in the cover story. "Being awake and being in the present is what allows people the freedom to attain their goals. That has to be step one before you start to chase the world. Go inside and then the world will come to you."
Simmons practices Transcendental Meditation (TM), and serves on the board of The David Lynch Foundation, which focuses on teaching children TM, as well as military veterans, people in prison and more. He even dedicated a section of the book to teaching some basics from the TM method to those who want to begin the practice.
"Meditation is about stillness," said Simmons. "We need to let the mind be still. Transcendental meditation may not be right for everyone, but it was a good route for me, and I recommend it to anybody who wants to try meditating. There is not one [method] better than the other."
The March 2011 issue also features a new column called Soul Connections focused on love relationships and written by Dr. Craig Martin, a spiritual counselor, interfaith minister and astrologer who has been featured as a relationship expert on ABC and Martha Stewart Radio.
"Elevated Existence continues to bring the latest information, advice and tools to its readers on both spirituality and self-improvement topics, interviewing both celebrities and best-selling authors including Shirley MacLaine, Melissa Etheridge, Louise Hay and Joe Vitale," said magazine founder, publisher and editorial director, Tammy Mastroberte. "Russell Simmons offers advice to live by in his new book and in the March 2011 cover story. I'm thrilled to share it with our readers worldwide."
The new issue featuring Russell Simmons is available for individual purchase, or through a one-year subscription for only $10. Visit www.elevatedexistence.com for more information.
###
Elevated Existence
Published by Elevated Existence LLC, based in Elmwood Park, N.J., Elevated Existence Magazine is an award-winning, digital, spiritual publication with a self-improvement focus that debuted in June 2008 and has featured cover stories with Joe Vitale, of the best-selling book and movie "The Secret;" Dr. Wayne Dyer; Academy Award winning actress and author Shirley MacLaine; actress and singer, Olivia Newton-John; singer Melissa Etheridge and more.
Founder, Publisher and Editorial Director, Tammy Mastroberte has more than 12 years experience in the magazine publishing industry, and began the publication and Web site because of her own interest and passion for a variety of topics that fall under the subject of spirituality and self-improvement, along with her desire to share them with the world. She is dedicated to helping others improve the quality of their lives one reader at a time.
For more information, visit www.elevatedexistence.com. The quarterly magazine is available for a yearly subscription rate of $10.
Media Contact:
Tammy Mastroberte
Founder, Publisher & Editorial Director
Tammy@elevatedexistence.com