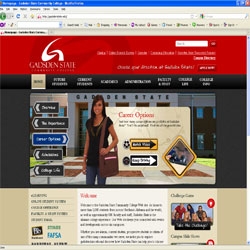 Atlanta, GA, March 16, 2011 --(
PR.com
)-- For higher education institutions, increasing student enrollment in a down economy often means taking stock of current marketing efforts and re-investing in areas capable of yielding the highest return.
Such was the case for Alabama's Gadsden State Community College (GSCC) last July when they opted to focus their marketing dollars on a brand new website. That site,
http://gadsdenstate.edu
is proving a wise investment for the college - who today announces the honor of having their college website named Best of Show Electronic by the American Advertising Federation's (AAF) Central Georgia chapter as part of the 2011 ADDY® Awards held Tuesday, February 8th in Macon, Georgia.
The new higher education website was designed around GSCC's current marketing theme of "choose your direction at Gadsden State," and instantly puts visitors in the driver's seat with an intuitive, easily accessible online experience featuring multimedia navigation, embedded video presentations, and robust photo galleries targeted to today's Web savvy users.
"Our old website was bare bones," GSCC Public Relations Coordinator Kay Smith-Foster said. "It had no interactivity. We knew that we needed to do something to stay competitive."
To do this they turned to Third Wave Digital, a full-service marketing firm with a growing reputation for higher education website development.
"We spent a good amount of time determining how the new college website would need to be organized - what information was most important, what needed to be on the home page," Third Wave Digital President Bart Campione said. "Once the foundation was set, we were able to take GSCC's marketing theme and really run with it."
Now, the new
http://gadsdenstate.edu
makes it easy for prospective and current students, faculty, staff, parents and community members to find out all that Gadsden State has to offer with the click of a button.
To showcase the Gadsden experience, Third Wave Digital created a series of interactive college video tours featuring Gadsden State's own students acting as tour guides. Users are taken through various aspects of Gadsden State with the option to "keep driving" or receive more information at any time.
Third Wave Digital also created interactive "Fast Facts" that can be found throughout the newly redesigned website, an in-depth view of life at Gadsden State with photo gallery slideshows and a custom Challenge Game that lets users test their knowledge of all things Gadsden State.
"The response we have received from our new site has been extremely positive," Smith-Foster, said. "I hear people say things like 'You should really check out Gadsden State, they have a cool website.' And of course, we are so thrilled to have been recognized with such a prestigious award."
The website was entered into the ADDY® Award competition locally by Third Wave Digital. In addition to being named the Best of Show Electronic winner, http://gadsdenstate.edu also garnered the team at Third Wave Digital a Gold ADDY® which automatically qualifies the entry for the next round of judging.
Each year, in communities all over the country, chapters of the American Advertising Federation collect creative submissions for inclusion in the ADDY® Awards. With multiple opportunities for recognition, Gold ADDY® Award winners from each local level are then submitted for district judging - with Gold winners there moving on to compete for the highly coveted National Gold ADDY® Award.
About Gadsden State Community College
Gadsden State Community College is accredited by the Commission on Colleges of the Southern Association of Colleges and Schools to award associate degrees. With six campuses in Northeast Alabama, Gadsden State is within a short drive for thousands of area students. Whether studying for an Associate's degree before transferring to a four-year college, learning a technical skill to get a jump start on a fantastic career, or pursuing a new career direction, terrific instructors and advanced technology at Gadsden State help put students on the path to their career goals.
About Third Wave Digital
Third Wave Digital is a comprehensive web design, development and support company specializing in complex web presence creation for small to mid-sized businesses and universities. Third Wave Digital is a division of Colbarton Corporation which offers full service advertising agency services though Third Wave Advertising and complete Web hosting solutions through Third Wave Host. Third Wave Digital is headquartered in Macon, Georgia with satellite offices in Atlanta, Georgia and Orlando, Florida. For more information about Third Wave, call 888-578-7865, click
www.twd3.com
or e-mail info@thirdwavedigital.com.
###