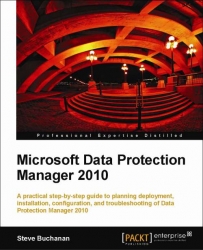 Birmingham, United Kingdom, March 22, 2011 --(
PR.com
)-- Overview: Microsoft Data Protection Manager (DPM) 2010 is a backup and recovery solution that provides continuous data protection of the Windows environment and file servers to seamlessly integrated disk, tape, and cloud storage.
This book is a practical, step-by-step tutorial that will show readers how to effectively back up their business data using Microsoft Data Protection Manager 2010 and how to plan, deploy, install, configure, and troubleshoot Microsoft Data Protection Manager 2010 as a standalone product. The book focuses on Microsoft best practices as well as the author's own real-world experience with Data Protection Manager.
The book starts by providing an overview of DPM and the relevant planning that is required for your backup needs, before moving on to installing DPM. Then it dives deep into topics such as DPM Administrator console and Task Areas, configuring DPM to function, configuring DPM backup on servers, backing up critical applications, recovery options, and DPM offsite backup and recovery, amongst others.
The book was reviewed by some of the best IT Professionals in System Center. The reviewers included:
- Islam Gomaa – Microsoft DPM MVP
- Robert Hedblom – Microsoft DPM MVP
- David Allen – Microsoft System Center Operations Manager MVP
- Geralyn Miller – i365 Technical Evangelist
About the Author:
Steve Buchanan is an information technology professional with over 11 years of experience in systems administration of server and desktop environments. For many years Steve has worked with backup solutions and disaster recovery. Steve has an Associate of Arts degree as a Network Support Specialist and a Bachelor of Science degree in Information Technology. Steve holds the following certifications: A +, Linux +, MCSA, MCTS: (Hyper-V, SharePoint 2007, Exchange 2007, Vista). Steve currently is an IT Manager. Steve enjoys sharing his adventures and ideas about system administration through his blog at http://www.buchatech.com. Steve is happily married and is a proud father of three boys.
Paperback: 450 pages
Release Date: April 2011
ISBN: 184968202X
ISBN 13: 978-1-84968-202-2
Author(s): Steve Buchanan
The book can be pre-ordered here: https://www.packtpub.com/microsoft-data-protection-manager-2010/book.
For more information or to contact the author, visit http://www.packtpub.com or email contact@packtpub.com.
Interested in reviewing this book contact: reviewrequest@packtpub.com.
About the Publisher:
Packt, pronounced Packed, published its first book Mastering phpMyAdmin for Effective MySQL Management in April 2004 and subsequently continued to specialize in publishing focused books on specific technologies and solutions. Packt is a modern, unique publishing company with a focus on producing cutting-edge books for communities of developers, administrators, and newbies alike.
In April 2010 the Packt Enterprise brand was created. Having published 135+ books to date - with a focus on Oracle, Microsoft and IBM titles - the Enterprise brand is going from strength to strength, and is able to effectively delve more deeply into the world of Enterprise software. This specialization allows a greater focus on, and better understanding of Enterprise technologies and the people who work with them.
###