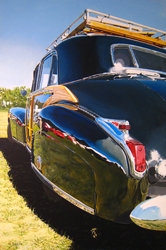 Stamford, CT, March 26, 2011 --(
PR.com
)-- Inspiration can come from anything if you are open to it. "I noticed that a large percentage of people that came to my gallery drove amazing cars - from classic restored cars to stunning new sports cars. This inspired my latest show - Art of the Car," said Elizabeth Ball, Director of the Pierce Ball Gallery.
Looking for just the right type of artwork was a challenge. Though there are many artists that faithfully render spectacular cars, Ball was searching for artists that took it a step further and beyond. "Cars are a study in elegant design details. I had in my minds' eye a show that celebrated those details and was able to find 3 artists that were perfect for this show."
Ken Scaglia of Weston, CT, is an award winning painter that meticulously studies his automotive subject to find just the right angle, perspective, lighting and specific detail he will use as his subject in his stunning photo realistic acrylic paintings on canvas. "I often try to mimic the luscious depth of a car's paint by building up layers of glazed color. One of the most common comments I hear involves the accuracy and discovery found in the reflections in the bodywork and chrome. I really enjoy a good double-take look from someone who can't believe it's a painting and not a photograph," says Scaglia.
The other 2 artists are a husband and wife team of photographers, John and Cassidy Olson of Killingworth, CT. Inspired by design, architecture, and form, both natural and man-made, they create stunning photographic images of the highest quality. Their automotive images featuring design elements and forms boldly draw the viewer to experience striking detail often in obvious subjects that otherwise often go unnoticed. With decades worth of combined photographic experience, their award winning images work has been published in countless nationally selling periodicals and soft and hardcover books as well as exhibited in some of the Nation's most prestigious art galleries and included in many private collections.
To further engage visitors at the gallery at "Art of the Car," there will be a selection of classic cars on the property for viewing. "I had also been looking for a sculptor to include in this show that somehow incorporated cars into their work. Then I realized that it would be perhaps more interesting to have the real thing on display," said Ball. A restored 1956 Benz Cabriolet a vintage Cadillac convertible, and a few others will be on view at various times during the show.
"I hope to have car enthusiasts drive their cars over to the gallery to be an impromptu part of the exhibit!" says Ball.
In addition, jewelry by Steven Wallerstein of Norwalk, CT will be displayed and for sale. His works in silver, copper, and brass, sometimes combined with semi precious stones are wearable works of art. "Steven's pieces are among my favorite pieces of jewelry because they seem to work well with anything you wear - dressy or casual!" said Ball.
The Pierce Ball Gallery also has an exhibit in the upper gallery, of small watercolors and "elephant size" acrylic paintings by 2 African elephants that live in the bush of the Okavango Delta in Botswana. The Pierce Ball Gallery is the exclusive gallery for these wonderful elephant expressions of art.
"Art of the Car" will open to the public on Saturdays and Sundays, 1 - 5pm from April 30 thru May 15. An opening reception will be held Friday April 29, 6 - 8 pm.
The Pierce Ball Gallery is conveniently located right off exit 34 of the Merritt Parkway at 9 Webbs Hill Road, Stamford, CT. 203-329-1105. For further information, go www.pierceballgallery.com
###