Restaurant Noise Silenced with QuietFiber®
Distracting clatter in restaurants is easily silenced with QuietFiber, the newest noise absorbing material from Acoustiblok, Inc.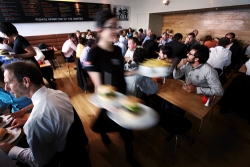 Tampa, FL, April 08, 2011 --(
PR.com
)-- It's no secret that trying to carry on a conversation in a noisy restaurant can be irritating. Now researchers are saying that background clatter is diminishing the flavor of your food too. That's according to a January, 2011 study in the journal "Food Quality and Preference" named "Effect of background noise on food perception," by Mark Woods, et al.
Featured in a Scientific American magazine article, the study concludes that background sound diminishes the gustatory system - the sensory system for the sense of taste sense - of certain food properties (saltiness, sweetness). Previous studies have also shown that noise can interfere with how the brain processes smell, which can diminish the appetite. Either way, the news is not good for loud restaurants.
When it comes to planning the interior design of any restaurant, it is not uncommon for noise to be overlooked among the long list of aesthetic essentials that combine to make it a successful establishment. More often than not, restaurateurs open their doors to a painstakingly planned décor, menu, staff and service, only to discover that poor acoustics are creating an unpleasant environment for their patrons.
Noise is one of the top issues in restaurants, particularly with today's modern interior treatments of choice, most often hard surface tile, stone, wood, and furnishings that might be beautiful to the eye, but have an altogether irritating effect on the ear. The shapes of ceilings and walls, spatial arrangements, materials installed and construction methods used can dramatically affect a restaurant's interior acoustics.
As the number of patrons in the restaurant or bar area increases, noise quickly escalates as all strive to hear and be heard in a hard surface, reverberant room.
In today's challenging economy, restaurant owners and managers have enough to contend with when it comes to beating the competition. When noise is a problem, it can be disastrous to even the most vigilantly tended establishment. Unscientific surveys indicate that patrons don't complain about noise, they simply don't return.
QuietFiber®
, the newest noise reduction product from Tampa, Florida-based
Acoustiblok, Inc.
, is the answer to restaurant owners who need a quick noise fix that is easy to install anywhere noise is a problem, without spending thousands of dollars to retrofit sound abatement material under drywall, or covering walls with expensive sound panels.
High sound absorbency QuietFiber is a two-inch thick DIY interior noise solution that can be cut to fit and simply hot glued underneath the bar, cabinets, countertops, tables, chairs, behind a wall tapestry or curtains. Slide a QuietFiber "pillow" on top of cabinets, or anywhere else that noise is a problem and peaceful surroundings are a must. Easily cut to size with a serrated knife, Quiet Fiber can be concealed almost anywhere.
Used industrially for reducing noise, QuietFiber is a non-fiberglass material designed to absorb the maximum amount of sound (NRC 1.00). Fireproof, totally hydrophobic (will not absorb water or moisture), washable, non-deteriorating, mold and mildew-proof, Acoustiblok offers a lifetime warranty on this product.
"Before we made QuietFiber available as a DIY sound reduction material that anyone can install in any interior space, noise was a costly problem to resolve in restaurants" says Lahnie Johnson, founder and President of Acoustiblok, Inc. "We wanted to offer a DIY product that could be installed quickly, easily, non-invasively and affordably, and we have it in QuietFiber; anyone can do it, it even works great in your home."
QuietFiber is UL fire rated for floor, wall and ceiling applications, 100-percent recyclable and 100-percent made in the USA.
For more information on QuietFiber, visit the
Acoustiblok website
(www.acoustiblok.com), send an
E-mail
(sales@acoustiblok.com) or call 813.980.1400.
###
About Acoustiblok:
Since 1998, Acoustiblok's noise abatement products have earned the industry's highest ratings from architects, builders and consumers. Acoustiblok is a proprietary viscoelastic polymer material with a high density mineral content, heavy and yet extremely flexible. As sound waves cause the Acoustiblok material to flex, internal friction occurs and the acoustical energy is dissipated in undetectable trace amounts of heat. A 1/8" layer of Acoustiblok in a standard wall results in more sound reduction than 12 inches of poured concrete. Environmentally friendly, Acoustiblok contains no lead or asbestos, is UV, water and mold resistant, and UL rated and classified for all wall, floor and ceiling installations. Available internationally, Acoustiblok earned first place honors in England's Sound Abatement Competition, presented at the British House of Commons.
For more information visit
www.acoustiblok.com
, E-mail
sales@acoustiblok.com
, or call 813.980.1400.
Contact
Acoustiblok, Inc.
Liz Ernst, Director of Public Relations
813.980.1400 x 210
www.acoustiblok.com

Contact