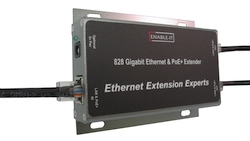 Las Vegas, NV, April 19, 2011 --(
PR.com
)-- Ethernet Extension Experts, the creators of Ethernet Extenders and preferred source for Ethernet extension solutions in the surveillance - security and other industries, has recently revamped the award winning and industry's latest darling, the Enable-IT 828. This complete solution delivers superior options for security integrators to meet today's demands for higher throughput, connectivity, and durability. The Enable-IT 828 Gigabit Ethernet extender now comes with three built-in PoE Gigabit Ethernet ports and a ruggedized aluminum case, along with options for PoE injection via Midspans, and standalone injectors. Now, for just a few hundred dollars, security integrators can use this all-in-one Gigabit solution to blow past Ethernet's distance limit (328 feet) and deploy multiple far off high-definition IP cameras out to 800 feet away, through a single unit, or up to 2,000 feet away, in series or tree.
Ethernet extenders drive high-bandwidth duplex signals significantly beyond (sometimes up to 20x beyond) Ethernet's distance limit over most forms of copper cabling, including CAT-rated cabling and telephone wire. This can save organizations and thousands of dollars in administration, installation and security over fiber deployment, thereby granting security integrators the ability to enter lower-budget markets and bypass municipal headaches. What makes the Enable-IT 828 particularly useful to modern security integrators is that it can extend up to Gigabit Ethernet out to long distances, without the need for a slew of add-on equipment, for just a few hundred dollars.
"We're being honest with the market and delivering them a durable, all-in-one solution for extending their PoE IP security cameras and other IP-based devices," said David Conners, Enable-IT's Director of Product Development. "Security professionals shouldn't have to settle for piecemeal, Chinese-made products with ridiculously short life-spans and 90-day warranties. For just a few hundred bucks, which is actually less than what you'd ultimately pay for other piece-by-piece solutions, you can get an American-made, all-in-one solution with a 4-year warranty, 45-day money-back guarantee, and throughput to spare."
The Enable-IT 828 PoE Gigabit Ethernet Extender Kit (with optional PoE injector) can be purchased at
www.EthernetExtender.com
. It comes in three varieties, the 828A, without a PoE injector, has an MSRP of $310, while the 828P, which comes with a 50 Watt/60 Volt PoE injector, has an MSRP of $349. Aside from the PoE injector distinction, both versions come with the base 828 unit, a country-specific wall power adapter, and an installation manual. Quantity discounts are available and every purchase comes with free same-day shipping and a 45-day money-back guarantee.
Ethernet Extension Experts (Enable-IT) is a pioneer OEM manufacturer of cost cutting plug-and-play Ethernet Extension solutions for the physical security, information technology, and multi-unit (residential or commercial) marketplace. They offer a wide range of solutions to extend Ethernet networks, for every data type imaginable, up to 20x beyond the stifling IEEE/Ethernet distance limit of just 328 feet (or 100 meters). Their seamless solutions do this over your own –often forgotten- traditional copper-pair (e.g. telephone) wiring, effectively saving you thousands in overhead and security measures.
###