Algae 2020 Author to Present at The Advanced Biofuels Leadership Conference
Emerging Markets Online CEO and Algae 2020 author, Will Thurmond will provide a presentation on the future of next-generation biofuels and will moderate a panel discussion on Drop-In Fuels, with top executives from Solazyme, Sapphire, Virent, Primus Energy, and LS9 at the prestigious Advanced Biofuels Leadership conference in Washington, DC held annually by the Biofuels Digest.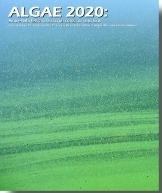 Houston, TX, April 19, 2011 --(
PR.com
)-- Emerging Markets Online (
www.emerging-markets.com
), a global leader in biofuels market intelligence, today announced that its Founder and Chief Executive Officer, Will Thurmond, will present at the Advanced Biofuels Leadership Conference taking place from April 19-21, 2011 at the Capital Hilton in Washington, D.C., on Tuesday, April 19, 2011 at 4:00 p.m.
At this event, Emerging Markets Online will also moderate the panel on the future of Drop-In Fuels, including top executives from Solazyme, Sapphire, Virent, Primus Energy, and LS9.
The Advanced Biofuels Leadership Conference brings together the leaders guiding the development of advanced biofuels as well as emerging feedstocks. The conference focuses on the key drivers for biofuels commercialization including processing technologies, finance, policy, and feedstocks from those in a unique position to make decisions. See www.advancedbiofuelssummit.com for details.
About Emerging Markets Online
Emerging Markets Online is a market intelligence firm serving the needs of clients in biofuels, oil, gas, government, R&D, and economic development initiatives. Emerging Markets Online provides strategic advisory services, investment due diligence, market strategies, business plan support, and technology systems consulting to many of the top companies and organizations involved in the biofuels, energy and utilities sectors of the developing and developed world.
Will Thurmond, Founder and CEO of Emerging Markets Online, is a renowned biofuels expert and well-versed in emerging markets and future trends in biofuels and the energy industry. With with more than 20 years experience in the field, he most recently published Algae 2020, Vol. 2, a guideline for "winners and losers" in the algal and biofuels game. Governments around the world are actively pursuing algae as the feedstock of the future. Algae 2020, Vol 2 provides a strategic roadmap to winning the algae biofuels end-game and details for phasing out of the losing, vicious cycle of economic dependency on foreign oil.
With more than 100 articles published both in the U.S. and internationally, he is a frequent contributor to and Biofuels Digest and Biofuels International. He has also appeared on TV and radio programs where he discussed the role biofuels will play in both U.S. and international energy policy among other topics.
Don't miss Will Thurmond, CEO Emerging Markets Online and Author, Algae 2020, and Biodiesel 2020 at these upcoming events.
Upcoming Speaking Engagements:
- Advanced Biofuels Leadership Conference
April 19-21, 2011 Washington DC Capital Hilton
- Renewable Chemicals Live
June 9-10, 2011 Sheraton Crystal City Arlington, VA
- World Biofuels Markets Brazil
September 28-29, 2011 Sao Paolo, Brazil
- Biofuels International Canada Expo & Conference
October 3-4 Telus Convention Centre Calgary, Alberta
- European Bioenergy Conference and Expo 2011
October 5-6, 2011 Stoneleigh Park, Warwickshire, UK
- Algae Biomass Summit
October 25-27, 2011 Hyatt Regency Minneapolis, MN USA
- Advanced Biofuels Markets USA
November 9-11, 2011 San Francisco, CA
For a Presentation on The Future of Next-Generation Biofuels at Your Event or Organization, Contact:
Emerging Markets Online
Will Thurmond
Founder and CEO
Phone: 713-429-4905
Email: info(at)emerging-markets.com
###
Contact
Emerging Markets Online
William Thurmond
713 429 4905
www.emerging-markets.com

Contact