Harvey Software Includes PEER 1 Hosting as an Industry Partner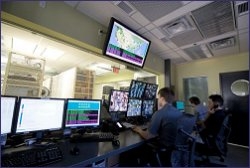 Fort Myers, FL, April 20, 2011 --(
PR.com
)-- Harvey Software, Inc., announced today it has included PEER 1 Hosting as a Harvey Software Industry Partner. At the same time, Harvey Software has now become a Channel Partner in the PEER 1 Hosting Channel Partner Program, PEER 1 Hosting (TSX:PIX).
"PEER 1 Hosting services have been our choice for many years, in fact nearly as long as we have offered shipping software products for Internet resellers. From our experience in working with PEER 1 Hosting over the years, we find them to be just a great company," said Terry Kennedy, VP of Alliance Marketing of Harvey Software. "To help our customers, we constantly search for companies that share the same level of service offerings and customer service commitment as Harvey Software. Shipping is complicated enough without having to deal with unrelated services. When we find a winner like PEER 1, we let our customers know by adding them to our business partner program as an Industry Partner," Mr. Kennedy stated.
For more information about this, the Harvey Software's Business Partner program or Harvey Software's multi-carrier shipping software solutions and services, please visit the Harvey Software Business Partner page.
About Harvey Software, Inc.
Harvey Software is an established, leading developer of globally ready, eco-friendly, multi-carrier shipping software solutions, providing businesses with shipping solutions since 1983. Harvey Software's premium shipping solution, the Computerized Parcel System (CPS™) increases profits, boosts domestic and international shipping efficiency, reduces shipping expenses and eliminates the inefficiencies of single carrier software systems. CPS is a FedEx® Compatible Solution, is UPS Ready®, USPS® certified and works with Internet Postage. CPS can be purchased, downloaded, installed, and supported all over the Internet.
For additional information about this release, contact Steve Stevenson, Harvey Software, Inc., 7050 Winkler Rd. #104, Fort Myers, FL 33919, 800-231-0296,
http://www.HarveySoft.com/
.
For information about becoming a Harvey Software Business Partner, contact Terry Kennedy, VP of Marketing Alliances, 7050 Winkler Rd. #104, Fort Myers, FL 33919, 800-231-0296.
Disclaimer
NOTE: Brands and products referenced herein are the trademarks or registered trademarks of their respective holders.
###
Contact
Harvey Software, Inc.
Steve Stevenson
800-231-0296
www.HarveySoft.com

Contact