Author Colby Van Wagoner Releases New Book Earth Mongers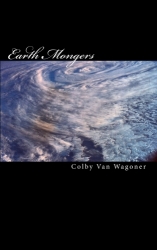 Lehi, UT, April 24, 2011 --(
PR.com
)-- Author Colby Van Wagoner releases his 4th book, entitled, Earth Mongers. The book explores the fall of ancient civilizations, wars from the 19th to 21st century, natural and man-made disasters and the crisis of the negative impact global warming is having on the environment. With a combination of historical events, and science fiction twist, Colby Van Wagoner presents a novel examining environmental change, war, natural disasters and the future choices we face relying heavily on fossil fuels or renewable resources.
The synopsis of Earth Mongers:
Earth's civilizations have fought to expand their borders, and gain control over the resources of the planet. Earth-Mongers explores the fall of ancient civilizations, the wars from the 19th to 21st centuries, increased loss of life from natural disasters, and crisis of global climate change. The progression of events leads to irreversible damages done to the Earth from overpopulation, pollution, and human-caused disasters, contributing to the negative impacts on the environment and disastrous climate changes.
With the planet on the brink of destruction in 2035, and an Extinction Level Event, the world's leaders and general population are faced with the ultimate decision of becoming an extinct species, or the evacuation of the planet. "It will challenge the mind, and expand awareness." - Colby Van Wagoner.
A portion of the proceeds from the purchase of this book will be donated to organizations working to save animal species close to extinction and protect animals.
Visit Colby Van Wagoner's website @ www.colbyvanwagoner.com
All of Colby Van Wagoner's books are available through Amazon.com, Barnes and Noble.com, and other online international booksellers.
###
Contact
Colby Van Wagoner
801-400-2029
www.wordclay.com/BookStore/BookStoreBookDetails.aspx?bookid=61962

Contact