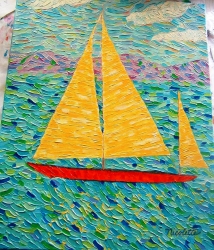 Pismo Beach, CA, April 26, 2011 --(
PR.com
)-- Determined to have a very successful new year in January 2011 Nicolette, local Artist and owner of Abundant Life Art, sold her barely dry heart painting "Gentle Love" on canvas in 2 days. She also sold 500 notecards to Giuseppe's, in Pismo Beach. The notecards with watercolor painting of the restaurant, will be used as Thank You's sent to their customers. Joe the owner, has purchased several pieces of her colorful artwork before and a few of those are currently on display.
Nicolette has lived on the Central Coast for 30 years raising her children. She also raised pet chickens for over 19 years evidenced in her art. A very busy mother of 3, she painted at night while her children were sleeping. She loves color and uses aquamedia (all water based products) to create her unique one-of-a-kind originals.
She has her textured original "Love Paintings" (and others) scanned by largest flat bed scanner in the world and then made into Giclee's on canvas with UV protective coating by an award winning company. They look just like the original for a much lower price. She sells limited edition prints in a variety of sizes and notecards with colored envelopes. Nicolette named her company Abundant Life Art a few years ago which is printed on back of each card.
She also creates unique handmade pottery: vases, platters and bowls with a handle and spout. Signing her art and pottery with just her first name, Nicolette is known for being very creative, detail oriented and told that perseverance should be her middle name. She has also written poetry since she was in her teens.
Most recently she's created unique turquoise jewelry to sell and also has made her Art available on T-shirts. (she Loves being creative) These will all be on display at her next Art Party.
Nicolette is also a friendly Realtor Associate with People's Choice Brokers in Shell Beach. She gives her limited edition prints to her clients who work with her to sell or buy their home, which makes them very happy.
Very busy with Real Estate and not trying to sell her art, she kept getting requests to purchase her originals and other art and was invited to show her work. One of her favorite and happy art customers told her to "keep painting." So she has started enjoying painting again. She sells art between selling homes which makes her double happy. (To see more samples of her work go to her website)
In January Nicolette became a member of Arroyo Grande Chamber of Commerce where she has been networking to insure a very good year.
Title of art shown: "Sailing Away"
For more info contact Nicolette
###