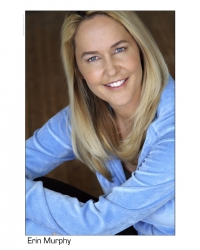 Los Angeles, CA, April 25, 2011 --(
PR.com
)-- Audiences remember her as the adorable daughter and nose-twitching witch, Tabitha Stevens, from the 1970s television series Bewitched. This month Erin Murphy will be honored alongside 150 current child actors at the CARE (Child Actor Recognition Event) Awards. The event will be held on April 30th at Universal Studios Hollywood. She will be honored not for her role as a child, but for her life as an adult.
Ms. Murphy started her career in commercials, booking the Bewitched role with her twin sister right before her 2nd birthday (Erin eventually played the role solo). Bewitched ran for 256 episodes and remains popular around the world today. Entertainment Weekly recently named Bewitched one of the "100 Greatest TV Shows of All Time" and for the 50th Anniversary of TV Guide, they included Bewitched in the 50 Greatest TV Shows of All Time and one of the Top 10 Sitcoms.
But what became of little Tabitha? It turns out Erin did just fine post-Bewitched. During her teens, Murphy modeled and did over 80 commercials. Erin credits her supportive family with being able to balance a successful career with a normal childhood, including being a high school cheerleader and homecoming queen.
As an adult, Erin has worked as an acting teacher, television producer, casting director, a makeup artist, a motivational speaker and even as a stunt double for Oscar nominee Virginia Madsen. Most recently, Erin can be seen as a co-star of Hulk Hogan's Celebrity Championship Wrestling on CMT. With her engaging personality, sense of humor and ability to appeal to audiences as diverse as Nickelodeon and Howard Stern, Erin is a popular celebrity guest host and entertainment reporter.
Outside of entertainment, Erin is most proud of her role as mom to Six boys and wife to husband Darren (yes, that's really his name). Erin is very active in the community through fundraising for various charities and advocating for autism awareness.
The CARE Awards are sponsored by BizParentz Foundation. Ms. Murphy will share her honor this year with producers Sherwood and Lloyd Schwartz and 150 of today's current young professionals. CARE Awards for those child actors are based on a unique point system where young performers (18 and younger) must qualify with a combination of professional acting work in 2010, academics, union membership, training, a written essay, community service, parent industry knowledge, and several other criteria. All of those items are designed to support the kind of career and successful life exhibited by Erin Murphy and the other adult honorees.
Proceeds from the event benefit the BizParentz Foundation, a non-profit organization dedicated to education, advocacy and charitable support to parents and children engaged in the entertainment industry. The CARE Awards is an invitation only event, but there are some seats still available for entertainment industry related families. Tickets to the event are $150 and include entrance to Universal Studios Hollywood. For ticket information please email BizParentz Foundation at bizparentz@aol.com.
###