Rentricity Inc. Presents "Building a Smart & Sustainable Water Grid" to Delegates at American Water Works Association Meetings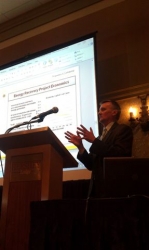 New York, NY, April 25, 2011 --(
PR.com
)-- Frank Bursic, Rentricity's Mid Atlantic/Ohio Valley/Canadian Regional Director, will participate at the American Water Works Association Meetings being held in Pennsylvania and Ontario, Canada.
The Pennsylvania AWWA Chapter event was held on April 20 - 21 at the Hershey Lodge in Hershey, PA. Frank highlighted Rentricity's most recent energy recovery installations in various potable water infrastructures and included a framework for navigating project economics.
Rentricity will also be participating in the Alaska AWWMA Chapter event being held on April 26 -28 at the Anchorage Hilton in Anchorage, AL and the OWWA/OMWA Joint Annual Conference, an Section of AWWA, being help at the Blue Mountain Resort in Ontario on May 1 - 4. The technical paper will include a basis for retrofitting energy recovery and monitoring technology to improve operational efficiencies.
The Company has recently launched its first commercial installations in New England and Pennsylvania and is currently developing new projects in California, Pennsylvania, New York, and Canada.
About Rentricity: Based at The New York City Accelerator for a Clean and Renewable Economy (NYC ACRE), Rentricity Inc. is a renewable energy company that uses unique energy recovery configurations to transform the untapped energy in various man-made water, wastewater and industrial processes into electricity. The energy recovery systems – called Flow-to-Wire – convert excess pressure in water mains and conduits into clean electric power. Since this electricity can be sold onto the grid, Rentricity gives its customers an additional source of revenue and a way to offset rising electricity rates while supporting local renewable energy goals. (www.rentricity.com)
###
Contact
Rentricity Inc.
Frank Zammataro
732-319-4501
www.rentricity.com

Contact