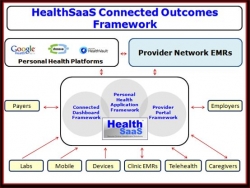 Clackamas, OR, April 27, 2011 --(
PR.com
)-- HealthSaaS today announced the licensing of their Connected Outcomes Framework to Swedish Medical Center in Seattle WA. Details of the white label project are not being disclosed at this time.
Dr. Gordon Irving Medical Director of the Swedish Pain and Headache Center states, "Utilizing the connectivity, tools and graphical reports offered by the HealthSaaS Connected Outcomes Framework can assist health care providers in managing chronic pain patients more effectively. We are confident that patients will gain significant benefit from an interactive site which allows them to securely share results with their health care providers."
Bob Tolar, President of HealthSaaS states, "We are proud to add Swedish Medical Center to a growing list of innovative healthcare providers utilizing the HealthSaaS Connected Outcomes Framework to improve efficiencies and quality metrics. This further enables opportunities for global collaboration that can help improve effectiveness of treatment and results."
http://www.healthsaas.net/Services/ConnectedOutcomesFramework.aspx
About The Swedish Pain and Headache Center
The Swedish Pain and Headache Center is one of the largest pain centers in the Pacific Northwest. Our mission is to improve functionality and quality of life for those suffering from chronic pain. We treat more than 1,000 patients each month, utilizing the latest research and techniques.
The management of pain has improved dramatically in recent years with the introduction of new drugs, devices and treatments. The Swedish Pain and Headache Center has been at the forefront of research in developing many of these advances.
People with a wide variety of pain-related problems are diagnosed and treated here. They include people with headaches, back pain, arthritis and fibromyalgia, as well as those dealing with cancer, HIV, reflex sympathetic dystrophy, neuropathic disorders and post-trauma symptoms.
About HealthSaaS Connected Outcomes Framework
Providers need views of patient data that are less fragmented than at present. The evolution of health information technology is driven by the need to connect data from different sources into the flow of the clinical practice as an asset, while minimizing unproductive data entry work. HealthSaaS technologies assist patients and clinicians in tracking and monitoring medical conditions by aggregating data from many sources including EMRs, PHRs, medical devices, mobile applications, labs etc.
This new paradigm of care promotes novel types of interactions between patient and health care professionals working at different levels based on the sharing of information in a technology-enabling framework. Interoperable information systems are the best way to improve patient outcomes and lowers costs.
HealthSaaS is an industry leader in designing connected solutions for provider networks, researchers, payors and clinicians.
The HealthSaaS Connected Outcomes Framework solutions can integrate lab, mobile, medical device, caregiver and Telehealth data into EMRs, research study services and Personal Health Platform solutions from Microsoft HSG, Google Health and Dossia.
White labeled versions of the HealthSaaS Connected Outcomes Framework can be a key component to facilitate more successful clinician-patient interactions, Patient Centered Medical Home (PCMH) solutions, research studies and clinical trials. Disease and condition specific websites may also leverage white labeled solutions to enhance their online portfolios.
###